Final KORUS FTA battle looms at National Assembly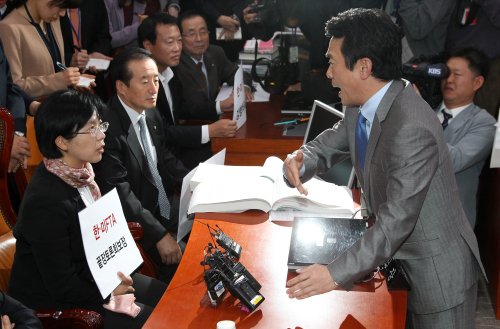 The Hankyoreh | Oct.19,2011
Final KORUS FTA battle looms at National Assembly
The GNP's rejection of the opposition's final supplementary measures could lead to a showdown at the National Assembly
By Seong Han-yong, Political Correspondent 
Grand National Party (GNP) Chairman Hong Joon-pyo said his party plans to pass a ratification motion for the South Korea-United States Free Trade Agreement (KORUS FTA) within the month of October at all costs.
During a meeting with Seoul party council chairs Tuesday, Hong said, "We definitely plan to pass the KORUS FTA ratification some time around the end of October after the elections" on Oct. 26.
Hong also said, "We will break through this. Just as the Naegok retirement residence [issue] was resolved in one strong motion, we will deal with the FTA in one stroke, too."
The National Assembly Foreign Affairs, Trade and Unification Committee held a general meeting Tuesday under GNP leadership and unsuccessfully attempted to pass the KORUS FTA ratification and additional legislation, including trade procedure laws. Six Democratic Labor Party lawmakers, including Chairwoman Lee Jung-hee, and Democratic Party Lawmaker Chung Dong-young occupied the committee chair's seat for 90 minutes before members from both sides of the aisle agreed to hold a final discussion on Oct. 20 and 21 and adjourned the meeting.
The DP held an emergency general meeting of lawmakers, where three preconditions were set for passage the ratification, namely protections on small merchants and neighborhood commercial districts and recognition of goods originating from the Kaesong Industrial Complex as made in South Korea, budget and legislative support for measures to preserve industries harmed by the FTA, and establishment of a trade procedure law.
The DP set as its platform an approach of blocking the ratification through any means necessary if the preconditions are not met.
While the DP reaffirmed its determination to block the motion, its numerical inferiority leaves it few suitable options. The DP presented its three preconditions as an ultimatum, but bipartisan dialogue has failed to progress.
At a general lawmakers' policy meeting Tuesday, the DP set a platform of pushing for stronger legislation on trade pact procedures and domestic implementation. It plans to enact the trade procedure law prior to the KORUS FTA ratification and clearly state that the Constitution takes precedence over the agreement, while working to neutralize toxic provisions.
The legislation in question states that trade pacts cannot violate economic sovereignty and rights permitted by international norms and provides detailed measures for resolving any clashes that may arise. In particular, the supplementary provisions clearly state that this would apply to the KORUS FTA that has been signed but not yet promulgated.
Additionally, it specifies that the government must disclose trade information to the South Korean public in a timely and transparent manner and that it cannot refuse to do so for reasons of pledges with the other party, a third country, or an international organization, international practice, or the conducting of trade negotiations at the time in question.
When requesting National Assembly ratification of a pact, the government would be required to report whether the pact conforms to the goals, basic plan, and operational plan of trade pact policy, as well as an assessment of economic and social impacts and domestic measures.
In particular, the legislation specifies that in cases where severe domestic damages result from mandatory enforcement of the pact, negotiations must be undertaken to amend the requirement. This would provide a legal basis for renegotiation.
DP floor leader Kim Jin-pyo said, "If we are to ensure that the South Korea-U.S. Free Trade Agreement does not compromise our economic sovereignty and avoid defanging our own retail law and Collaborative Cooperation Act to protect SMEs or a future special law on suitable industries for small merchants, we need to expand and rework our trade procedure law on domestic enforcement."
Kim called on the Lee Myung-bak government to respond to the DP's demand to meet the three preconditions of trade procedure law enactment, elimination of ten toxic provisions, and budget and legislative measures to compensate those damaged by the agreement, including the agriculture, livestock, and fishing industries.
But the Lee government responded negatively to the DP demands. In particular, the Lee Myung-bak administration is demanding a concession from the DP, although administration has internally formulated five to six supplementary measures, claiming that it cannot reveal its "final card" ahead of time.
DP senior deputy floor leader Noh Young-min said the National Assembly Foreign Affairs, Trade and Unification committee plans to hold negotiations through official channels on the DP's trade procedure legislation and domestic industry measures after resuming from the postponement to Thursday.
Noh was adamant, stating that "things are certain to end badly if the Lee government does not satisfy the Democratic Party's demands."
---