Financial fissures weaken ASEAN community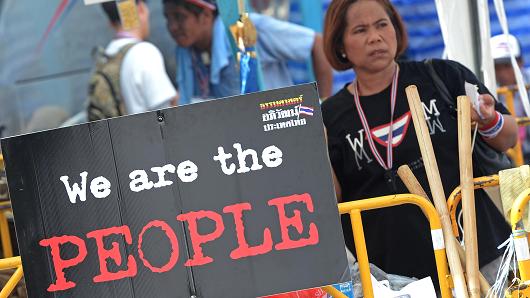 Business Vancouver | 9 May 2016
Financial fissures weaken ASEAN community
by Jonathan Manthorpe
The economic community of the 10 southeast Asian nations, launched at the end of last year, was always going to benefit from low expectations.
Despite the big numbers involved in what is known as the Association of Southeast Asian Nations (ASEAN) Economic Community – 625 million people, a combined gross domestic product of US$2.6 trillion and the world's seventh-largest economy – there was never much threat of the project being overhyped, leading to inevitable disappointment down the road.
ASEAN is nearly 40 years old. It was formed as an anti-communist political and economic league, and its members are Singapore, Indonesia, Myanmar, Malaysia, Brunei, Vietnam, Laos, Cambodia, Thailand and the Philippines. The economic community (AEC), launched in November and modelled on the European Union, was a logical continuation of those decades of integration.
Except that it isn't. At least, not yet.
The economic gap between high flyers like Thailand, Singapore, Malaysia and – increasingly – Indonesia and laggards like Laos and Myanmar is too wide to be easily bridged.
Last month AEC finance ministers and central bank chiefs had to adjust for the second time their timetable for the integration of financial services. When the master plan for the creation of the AEC was set out in 2007 it was imagined that financial integration could be achieved with the launch of the community in 2015. However, it soon became apparent that the banking and financial institutions of the smaller AEC countries would not be able to match those of heavyweights like Singapore, Thailand and Malaysia by that deadline, and that they would resist doing so. The target date was put forward to 2020, but at the last meeting it was put even further ahead to 2025.
Within that timetable, the finance ministers and officials have set conservative goals for enlarging the linked equities and bond markets, establishing region-wide banks and integrating insurance services.
The AEC can chalk up some achievements, however. About 96% of tariffs within the AEC have been removed, and legal and customs systems are being harmonized at a steady rate.
But non-tariff barriers continue to be a problem. ASEAN reports say nearly 6,000 non-tariff barriers remain in place among AEC countries. The bigger economies and markets are the worst offenders. Thailand has 1,641 non-tariff barriers in place, the Philippines has 855 and Malaysia 713.
These hurdles contribute to the strange phenomenon that creation of the AEC is actually coinciding with a decline in trade among the 10 member states. Vietnam's trade with its fellow AEC members has dropped from 15.6% in 2009 to 13.9% in 2014. Over the same period Myanmar's trade with ASEAN has shrunk from 50.5% to 42%. In Laos the drop was from 94.2% to 64.9%.
Globalization, the preferential tariffs offered by the United States and Europe to poorer manufacturing countries, and the political and economic intervention of China explain the lack of integration within the AEC.
ASEAN has always been a weak political institution because it proceeds by consensus, which means it moves at the pace of its most reluctant members. This weakness is looking ever more problematic as the political disparity among the 10 members gets more and more confused.
Twenty years ago, it seemed that a slow but sure transition to democracy was the natural course for ASEAN members. Yet Thailand, Malaysia, Singapore and Cambodia appear to be locked in permanent states of quasi-democracy, or to be slipping backwards. Large question marks hang over the political futures of Vietnam, Laos, Brunei, Myanmar and even the Philippines. Only Indonesia seems to have accomplished the transition. This is ironic, because a major reason for the creation of ASEAN was to stop Indonesia from becoming a rogue communist state. •
Jonathan Manthorpe (jonathan.manthorpe@gmail.com) has been an international affairs columnist for 40 years.
---