Free trade deal with China finally finalised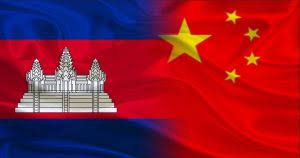 Khmer Times, Cambodia
Free trade deal with China finally finalised
By Sok Chan / Khmer Times
29 July 2020
Cambodia has listed around 340 more commodities to export to China under the Cambodia-China bilateral free-trade agreement (FTA), bringing the total to more than 10,000. Most of the products are in agriculture and agro-processing and are in addition to what Cambodia has received from the Asean-China FTA, according to a senior official of the Ministry of Commerce.
Sok Sopheak, secretary of state at the Ministry of Commerce and the head of Cambodia's negotiating team, however, did not disclose when the FTA between Cambodia and China will be signed, but he said that both parties were in agreement over the technical aspects and legal framework, "Based on the concluded negotiation of the Cambodia-China FTA, there will be an excess of 10,000 products listed for exporting to China from Cambodia while China will be allowed to list more than 9,500 products for export to Cambodia," Sopheak added.
Speaking at a news conference yesterday, Sopheak said the Cambodia-China bilateral Free Trade Agreement will be signed soon and is expected to be implemented early next year.
He said the deal was historic. It was a comprehensive agreement and would provide a lot of benefits and increase investment in Cambodia.
Sopheak reminded people that China is the world's second-largest economy so every country wants to trade and cooperate with it.
With the Cambodia-China FTA, it is expected that there will be more investments coming to Cambodia from China and other countries which will target China for export, especially in
the agro-processing sector.
It would create jobs and generate tax revenue for the government.
The 340 products included items such as pepper, chillis, pineapples, vegetables, fruit, fish, meat (including processed), grain, crabs, seafood and a variety of canned products, said Sopheak. According to the secretary of state, among the additional 340 commodities in the Cambodia-China FTA, 95 percent of them will be untaxed. Taxes will be dropped on the remaining five percent in at least 10 years.
He said the commodities which are still taxed are rice, rubber, tobacco, sugar, powders and paper products. If these products are under the current quota they will be tax-free, but anything beyond the quota offered will be taxed while a further 51 commodities, including auto parts will be taxed products. However, those products are not currently produced and exported from Cambodia. They will be taxed for up to 10 years before taxes on them are lifted.
Sopheak added since Cambodia is one of the least developed countries, so with this status, Cambodia can reduce custom tariff step by step for imported products from China. It takes at least from five to 10 years or even 20 years to turn the custom tariff to zero.
Sopheak added that most of the imported products from China are raw materials for the garment sector, construction machinery, steel, and other assembly items. "We agreed that each country cannot use the standard, technical regulations and compliance assessments to be a barrier to trade," he added.
Mey Kalyan, senior adviser of the Supreme National Economic Council (SNEC), welcomed the move. He said that while the world is suffering uncertainty both in trade and the spread of the COVID-19 pandemic, the FTA between Cambodia-China is an opportunity for Cambodia because the Chinese economy has not undergone much damage and will see growth. He said that it is important for Cambodia to have an FTA with China.
However, Cambodia should not depend solely on China. Kalyan added that for the long term, most of the countries that are targeting the Chinese market will come to invest in Cambodia and then export to China. "We have to be balanced for the other investors such as the EU, US and Japanese investors, which is good for Cambodia," he added.
"The FTA will be an opportunity for Cambodia to upgrade the industry in the Kingdom to diversify its products for exports," he added.
David Van, a Cambodian entrepreneur, said: "It is commendable that Cambodia finally made an effort to negotiate more FTAs with other key markets recently but it could have gone down that route decades ago to diversify markets instead of remaining complacent over the EBA (Everything but arms trade deal with the EU) and the GSP (Generalised System of Preferences) privileges.
He said the urgency of plying that path had become blatant following the EBA 20 percent revocation coupled with the COVID-19 predicament and the EU partial blacklisting process.
---