Free trade deal with Japan took priority over whaling dispute, says Trade Minister Andrew Robb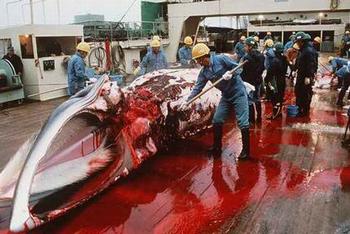 Sydney Morning Herald | February 10, 2014
Free trade deal with Japan took priority over whaling dispute, says Trade Minister Andrew Robb
James Massola
Political correspondent
EXCLUSIVE
The federal government has prioritised a free trade deal with Japan before a dispute between the two countries over whaling in the Southern Ocean, says Trade Minister Andrew Robb.
Before the election, the Coalition promised to send a ship to monitor Japanese whaling in the Southern Ocean, but late last year Environment Minister Greg Hunt instead sent a customs-staffed A319 aircraft, attracting criticism from whaling opponents.
Australia has challenged the legality of Japan's whaling in the International Court of Justice. A ruling is expected on the case after the whaling season ends next month.
Mr Robb said the federal Coalition was ''just as concerned about whaling as the other side [Labor], but it's about where priorities lie in terms of how we deal with that''.
Advertisement
''Our priority in coming to government is to fix the economic mess we have inherited, so we are focusing on those things that will create jobs in Australia,'' he said. ''It doesn't mean we aren't interested or concerned about other issues.
''Japan's a huge market. It's one of the biggest economies in the world and we already have a huge relationship but this would turbo-charge it. There is an enormous scope for Australia to provide high-value products and services to a sophisticated market.''
The proposed deal, which could open significant investment and export opportunities in agriculture, resources and education, was at a ''very advanced stage'', he said.
Prime Minister Tony Abbott is expected to travel to Japan, South Korea and China in April. Japanese Prime Minister Shinzo Abe is expected to visit Australia in July.
The government hopes the free trade agreement will be signed during the July visit.
The deputy chief of the Japanese embassy in Australia, Akira Imamura, maintained Japan's research whaling was a legitimate activity and said it was permitted under the international treaty on whaling.
''Although we have different positions on this, we understand that Mr Abbott's government also considers the decision [by the court] should not affect negatively overall on bilateral relations,'' he said.
''Australia is our fourth [largest] trading partner, and Japan is Australia's second trading partner, as well as the third investor in Australia. If we are to make the deal then it is going to be a significant achievement for both countries.''
Trade between the two nations is valued at $53 billion. The Department of Foreign Affairs has estimated the deal would boost Australia's gross domestic product by $39 billion over 20 years and Japan's by $27 billion.
Mr Robb confirmed an investor-state dispute settlement mechanism could be included in the trade agreement, as it was with South Korea in December, despite claims it could allow foreign companies to take legal action against the government. He said Australia had had investor-state dispute settlement in treaties and trade deals with 28 countries as far as back 30 years and ''the roof hasn't fallen in; we haven't lost our sovereignty''.
''In the main they have been to the benefit of Australian companies,'' he said.
---