Germans hold demo against US-EU free trade deal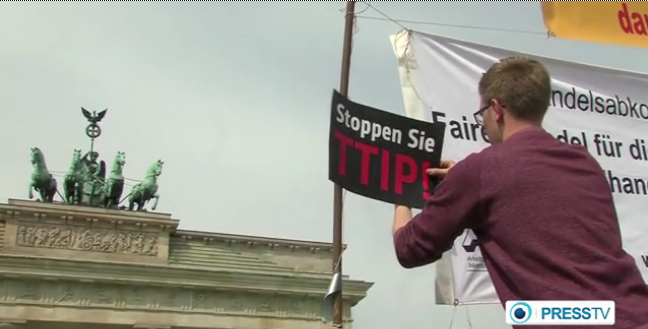 Press TV | May 7, 2014
Germans hold demo against US-EU free trade deal
Germans have held a demonstration outside the American Embassy in Berlin to protest against a planned Free Trade Agreement between the European Union (EU) and the United States, Press TV reports.
The demonstration on Tuesday was the latest in a series of actions aimed at revealing what the protestors call the negative aspects of the controversial agreement.
Members of the European civil society criticize the deal for "being founded on mere economic interests."
"The EU Commission and governments in Europe were of the opinion not to take the civil society into consideration and instead produce facts during meetings which lack transparency. No one really knows what exactly was stated in these closed-door negotiations," said Georg Janssen, from the ABL Agricultural Study Group.
Members of more than 60 non-governmental organizations (NGOs) took part in the protest, organized under the motto "Civil society against the Corporate-Deal."
German Deputy Chancellor Sigmar Gabriel said on Monday that the free trade pact presents an opportunity to shape global trade. He also added that the agreement would not mean lower standards for Europe.
"A transatlantic agreement should and must set new standards for a globalized economy," he stated.
The demonstrators also condemned the water-intensive process used to extract oil and gas from shale underground - known as hydraulic fracturing or fracking - for causing vast destruction as it contaminates ground water.
They voiced concern over the technologies that are used in food products such as genetically modified crops and chemicals to enhance livestock growth.
The German civil society has so far arranged multiple events, podium discussions and manifestations in an effort to stop the Free Trade Agreement between Europe and Washington.
SSM/HJL/HRB
---