Hundreds decry 'unprincipled' liberalization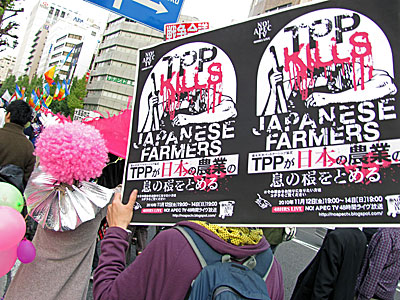 Japan Times | Sunday, Nov. 14, 2010
Hundreds decry 'unprincipled' liberalization
By TAKAHIRO FUKADA
Staff writer
YOKOHAMA — Hundreds of people staged a rally Saturday in central Yokohama to voice their opposition to Japan and other Asia-Pacific Economic Cooperation forum members taking steps to accelerate "unprincipled" trade liberalization, saying the measures would destroy people's livelihoods and devastate farmers.
Organizers said about 500 people, including some from overseas, took part in the demonstration. Most appeared to be members of domestic and overseas citizens' groups and labor organizations.
"Countries participating in the APEC forum are shifting their responsibility for the economic crisis on to us, the people," Kang Seung Cheol, secretary general of the Korean Confederation of Trade Unions, told participants.
"Capitalists demanding new liberalism are only pursuing their own profits. . . . We, the workers and people from all over the world, shall unite and resist (with) all our strength the new liberalism that is destroying our livelihoods," he said.
Au Loong-yu, a researcher at Hong Kong-based citizens' group Globalization Monitor, also voiced his opposition to free trade, claiming it is a system that exploits workers. "No to free trade!" he told the crowd, to laud applause.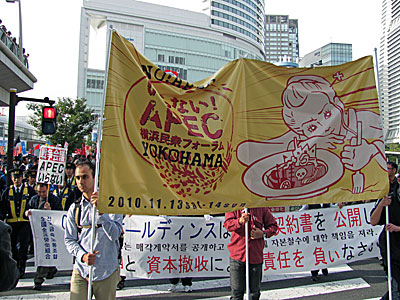 Jean Enriquez, of the World March of Women based in the Philippines, criticized the heavy police presence in Yokohama.
"We know that tens of thousands of police are mobilized from Japan's different prefectures. It also shows how scared these powerful elites are of all of us, the struggling people of the world," she said. "We should continue mobilizing, we should continue to push them back, we should continue to scare them until capitalism crumbles."
Holding banners denouncing APEC, participants then marched along a police-lined route chanting "We do not need APEC."
---