I am an artist and I want to stop TTIP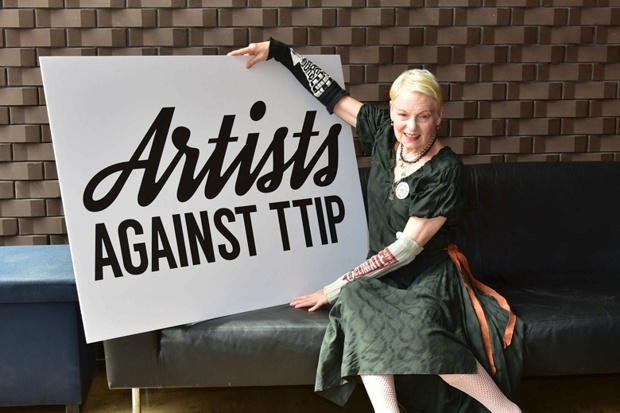 Huffington Post | 12 February 2016
I am an artist and I want to stop TTIP
by Carrie Cracknell
Last year my brother started to tell me how worried he was about something called TTIP. I had no idea what it was. He explained to me that on the face of it TTIP was just a trade and investment deal being negotiated between the EU and the USA - but that it had a very dark side. We talked long into the night - and the disturbing, far-reaching implications of TTIP started to become very clear. We were on a path that threatened to allow business to undermine our political system - and it seemed as though almost no-one had even heard of it.
In a nutshell TTIP is an international agreement which would allow big businesses to sue democratic governments if they introduce laws which could damage their profits (see link for details). Because the details are complex and rather boring, it is an issue which is hovering just under the radar. Proponents of TTIP would like it to stay this way.
But we must pay attention to TTIP because it threatens so many things that are important to us. The more I found out about TTIP, the more I realised that it could impact on an incredibly wide range of issues - including food standards, workers rights, the future of the NHS - even the future of democracy itself.
Regulations that protect us but make it harder for businesses to make a profit will be weakened. Businesses will start being consulted on new laws before anyone else is. And if governments put in place new laws to protect our health, our rights, or our environment, businesses will have the power to sue them for billions of pounds of lost profit.
For example, if TTIP is passed, things that are now banned in the EU - like American beef that has been reared with growth hormones (that we know are carcinogenic) will be allowed onto our supermarket shelves. And overnight governments will lose their ability to change their mind about privatisation - once a public service has been privatised, they will never be allowed to take it back into the public sector again.
So how can TTIP be stopped? My brother and I began to think how we could find ways to get more people interested. As a theatre director my job is to capture people's attention, fire up their imagination, get them seeing the world in new ways. And I know a lot of other artists who can also do this. We decided to try and bring these people together - friends and colleagues - to harness their creativity and star power in the fight against TTIP.
I think we forget too easily that politics is everybody's business. We may at times feel disconnected from politics but big businesses are not. They know that while we are distracted by other things that we find more interesting than politics, they have the opportunity to get closer and closer to government. That is how TTIP was dreamed up - in the secret rooms where businesses and governments meet to decide our future. Democracy is just a distant echo in those rooms. And if TTIP goes ahead, the situation will get much worse.
And so in June 2015 Artists Against TTIP was born. Actors, writers, directors and designers like Mark Rylance, Mike Leigh, Helen McCrory and Vivienne Westwood came to our launch and signed up to our campaign (see the current list of artists involved with the campaign here).
One of the first things we did was make this video - starring Ruth Wilson, Tobias Menzies, Andrew Scott, Katherine Parkinson, Juliet Stevenson and designer Vivienne Westwood. If you want a basic introduction on why we need to stop TTIP, watching it is a good place to start. And if you want to go deeper, you can watch our the video of the launch event itself - at which brilliant campaigners gave a powerful overview of what TTIP threatens to do - and how we can help them fight it.
This is what Artists Against TTIP wants to do next:
– Work with actors, writers and directors to make films that help more and more people understand what TTIP is - and how toxic it is to our health, our environment and our democracy.
– Hold political events where we will use our voice to challenge the Government and the other political parties to explain why they are supporting an agreement that will fundamentally undermine democracy itself - as well as damaging the lives and livelihoods of so many people.
– Do everything we can to talk to the media - to create new stories that will get their attention - and get them to help us reach more people and create a cultural and political conversation about TTIP and what we can do to stop it happening.
If this sounds exciting, please keep an eye on this blog and follow us on Facebook and Twitter. This is where we share the things that are inspiring and that inform the campaign.
And if you are an artist (or anyone working in the creative or entertainment industries) and think you would like to help - please get in touch. We need you.
---