India seeks better trade, connectivity with ASEAN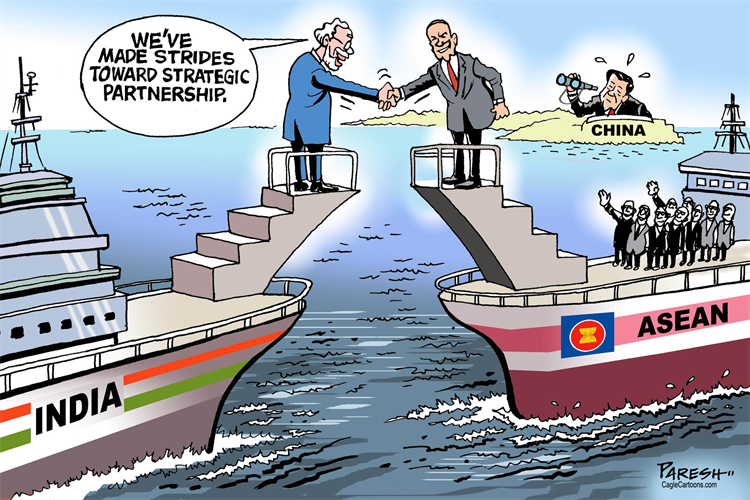 The ASEAN Post - 26 February 2019
India seeks better trade, connectivity with ASEAN
India is hoping that better connectivity will help boost trade ties with ASEAN and decrease its trade deficit with the 10-member bloc.
ASEAN is India's second largest trading partner after China and total bilateral trade between ASEAN and India reached US$81.3 billion last year – an increase of more than 28 times the US$2.9 billion recorded in 1993.
Bilateral trade between the two parties was US$21 billion in 2005-06, and although it has increased nearly fourfold since then, the ASEAN-India Free Trade Area (AIFTA) which came into effect in 2010 hampered India's exports and its trade deficit with ASEAN rose from US$7.7 billion in 2009-10 to nearly US$13 billion in 2017-18.
However, the AIFTA does not cover the services sector and its encompassing industries such as engineering and information technology (IT) - in which India's strength lies.
India's trade deficit of US$162 billion in 2017-18 was due to higher oil, gold and electronic imports – with China accounting for US$104 billion of that sum, South Korea US$12 billion and Japan US$6 billion.
Speaking at the 4th India-ASEAN Expo and Summit held in New Delhi from 21-23 February, Rajnath Singh, India's Minister of Home Affairs said India is currently working with ASEAN on multiple connectivity projects to further consolidate and deepen trade ties via road, rail and air.
"Exploring opportunities through connectivity projects will help India to remove physical impediments to trade with ASEAN countries and further integrate the two regions for better economic and security relations," said Singh in a press release from India's Press Information Bureau.
"Our engagement with ASEAN has acquired a new dimension with our Prime Minister's vision to 'Act East'," he said, referring to Indian Prime Minister Narendra Modi's Southeast Asian stand outlined in 2014.
Act East
The Act East policy is an evolution of the Look East policy introduced by former Indian Prime Minister Narasimha Rao in 1992 which focused on trade and attracting investment.
Seen as a counter to China's growing influence in the region, the Act East policy is pillared around commerce, culture and connectivity.
Key to unlocking greater commercial benefits for ASEAN and India is the Regional Comprehensive Economic Partnership (RCEP) which is expected to be completed this year. The RCEP is a 16-country regional trade deal in which ASEAN hopes to integrate its economy with India, China, Japan, South Korea, Australia and New Zealand -creating a market comprising nearly half the world's population and a third of the world's gross domestic product (GDP).
RCEP negotiations were formally initiated in November 2012 at the ASEAN Summit in Cambodia and among the issues yet to be ironed out include competition laws, trade obstacles, the rule of origins, e-commerce and intellectual property rights.
It is seen as an alternative to the Comprehensive and Progressive Trans-Pacific Partnership (CPTPP – formerly known as the TPP), a free trade agreement which reduced tariffs in 11 Pacific Rim countries and came into effect late last year.
The 11 CPTPP countries – Australia, Brunei, Canada, Chile, Japan, Malaysia, Mexico, New Zealand, Peru, Singapore and Vietnam – make up more than 13 percent of the global economy and have a combined GDP of US$10 trillion, making it the third largest free-trade agreement in the world.
There have been suggestions by both, Indian and ASEAN officials that the yet to be completed India-Myanmar-Thailand Trilateral Highway – an Indian-led initiative mooted in 2002 which aims to build a 1,360 kilometre (km) highway from India to Thailand – should be extended to Cambodia, Lao PDR and Vietnam.
Apart from the India-Myanmar-Thailand Trilateral Highway, ASEAN and India are also working on the Kaladan Multi-Modal Transit Transport Project which will provide an alternative route through Myanmar for the transportation of goods to the northeast region of India.
Digital villages
India has provided ASEAN with a US$1 billion line of credit to promote infrastructure connectivity and is also actively investing in digital connectivity – an example being its digital villages.
A leader in information and communications technology (ICT), India is helping to enhance rural connectivity in Cambodia, Lao PDR, Myanmar and Vietnam by setting up digital villages which provide easier access to banking, education, health and financial services.
With historical and cultural links which date back more than 2,000 years, India and ASEAN can improve their already strong ties by establishing more digital and physical linkages and opening up the Indian services sector.
---