Indian firms advised to increase investment in Vietnam to leverage trade pacts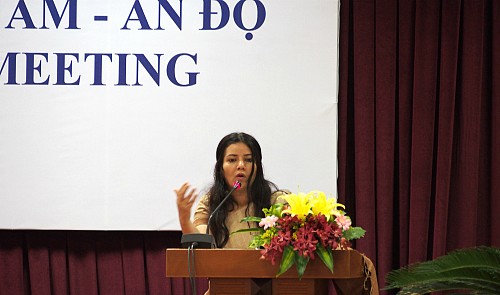 Tuoi Tre News | 17 Jul 2015
Indian firms advised to increase investment in Vietnam to leverage trade pacts
Thoai Tran/Tuoi Tre News
The Consul General of India in Ho Chi Minh City has recommended that Indian enterprises, apart from expanding trade with Vietnam, should seriously invest in the Southeast Asian country to make use of future trade agreements.
When considering doing business in Vietnam, Indian companies should not think about the 90 million-strong Vietnamese market alone, but think about the much bigger ASEAN market, with 600 million people, Smita Pant, Consul General of India, said at a trade promotion and investment event held at the headquarters of the Ho Chi Minh City branch of the Vietnam Chamber of Commerce and Industry (VCCI).
The ASEAN members include Indonesia, Malaysia, the Philippines, Singapore, Thailand, Brunei, Myanmar, Cambodia, Laos, and Vietnam.
Vietnam will soon sign many large-scale free trade pacts with important partners like the EU and the U.S., which will make the country more attractive as a destination for investment to serve ASEAN and other big foreign markets, Consul General Pant said at the meeting between a delegation of 15 Indian firms and the business association along with many Vietnamese partners on Tuesday.
According to local experts, once the trade pact between Vietnam and the EU is signed this year, the bloc will liberalize 95-97 percent of tariffs on Vietnamese goods.
The realization of the Trans-Pacific Partnership (TPP) trade agreement later this year will be beneficial to a small economy like Vietnam, and is expected to help raise the country's GDP by more than 30 percent within 10 years, according to research by the U.S.-based Peterson Institute for International Economics.
The TPP is a proposed regional free trade agreement aimed at eliminating tariffs and lowering non-tariff barriers that is being negotiated by 12 countries throughout the Asia-Pacific region, which collectively contribute almost half of global output and over 40 percent of world trade.
The 12 countries are Australia, Brunei, Canada, Chile, Japan, Malaysia, Mexico, New Zealand, Peru, Singapore, the United States, and Vietnam.
Earlier this year, Vietnam concluded many important free trade pacts with other foreign partners, such as the Eurasian Economic Union (EEU), which includes Russia, Armenia, Belarus, Kazakhstan, and Kyrgyzstan; and an agreement with South Korea.
As a result, Pant recommended that Indian firms should think over the trade aspect, and think more about direct investment to make use of all available opportunities that Vietnam will enjoy via these trade deals.
In 2015, according to the International Monetary Fund, India is considered a spotlight of the world economy, with gross domestic product growth potentially overtaking that of China for the first time since 1999, said Vo Tan Thanh, head of the VCCI branch in Ho Chi Minh City.
This growth is due to many positive factors, including the change in diplomatic policy of Look East into Act East by Prime Minister Narendra Modi.
Under the leadership of Prime Minister Modi, the Indian government has introduced an Act East policy, an upgrade of the former Look East policy, in an effort to leverage its relations with East Asian countries.
The new diplomatic policy, accompanied by the ASEAN–India Free Trade Area, which will take full effect next year, and the establishment of the ASEAN Economic Community by the end of this year, will help leverage trade and investment relations between India and Vietnam and other Southeast Asian countries, Thanh said.
Regarding trade relations, India is among the ten biggest international trade partners of Vietnam, and Hanoi is the 28th largest foreign trade partner of New Delhi, Thanh said, adding that two-way trade has grown rapidly, from over US$1 billion in 2006 to more than $8 billion by the end of last year.
Vietnam's exports to India reached over $850 million in the first four months of this year, while imports topped $911 billion, a positive signal as the Southeast Asian country's trade deficit with the South Asian nation has sharply dropped from over $3 billion in 2014.
As regards investment relations, as of June 2015, India ranked 30th out of 100 foreign countries and territories that have investments in Vietnam, with over 100 projects worth more than $380 million, according to Thanh.
---