Indonesia to finalize five trade deals next year in hunt for wider markets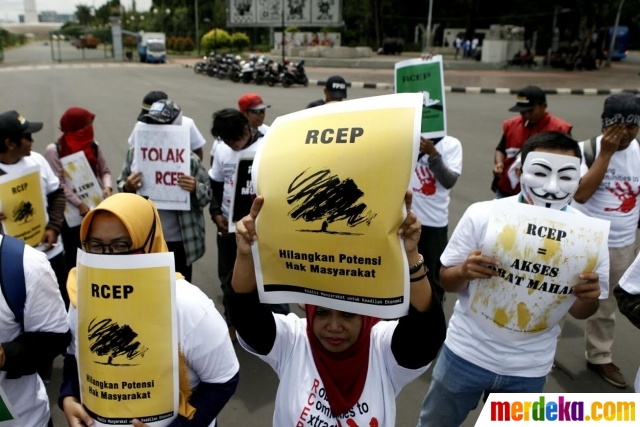 Jakarta Post | 8 December 2016
Indonesia to finalize five trade deals next year in hunt for wider markets

by Stefani Ribka
As Indonesia accelerates talks with 15 Asia-Pacific nations, it is prioritizing the conclusion of five trade deals next year to open access to foreign markets and lure inflows of investment.
The biggest one is the intensively discussed Regional Comprehensive Economic Agreement (RCEP), which will create a market of 3.4 billion people involving ASEAN and its six major trading partners – Australia, China, India, Japan, New Zealand and South Korea.
The rest are two comprehensive economic partnership agreements (CEPA) with the European Free Trade Association (EFTA) and Australia and two free trade agreements (FTA) with Peru and Chile.
Trade Ministry director general for international trade negotiation Iman Pambagyo said that the deals are expected to strengthen Indonesia's grips on regional and international markets, as well as integrate its industries more deeply with global supply chains amid a worldwide economic slowdown that has sapped trade growth in recent years.
Global trade fell to a low cycle in the past four years of 2.8 percent in 2012 and 3.5 percent last year.
Before commodity prices plunged and the United States experienced a budget crisis, international trade grew at 11.71 percent in 2010, World Bank data shows.
Indonesia's exports have gradually shrunk since 2011, after they hit an all-time high of US$203.4 billion, to $150.2 billion last year, according to data from the Central Statistics Agency (BPS).
Once completed, the RCEP will help more goods, services and investment flow into the biggest regional trade bloc ever, one that would represent 30 percent of the global economy.
ASEAN has already sealed an FTA, known as ASEAN+1, with the trading partners. However, its six partners have yet to ink similar deals among themselves.
"Now we want to combine all these [agreements] to become one, so that all 16 countries can develop, deepen and widen the regional supply chain," Iman recently told The Jakarta Post.
Talks on the RCEP have just entered their 16th round and they are taking place in Indonesia this week. For the first time, the discussions will touch on issues like the free movement of workers and intellectual property rights, while also trying to finish a chapter on small and medium enterprises (SMEs).
A CEPA with the EFTA, meanwhile, is expected to be completed in the first half of 2017. With the agreement, Indonesia would prioritize attracting investments from Iceland, Norway, Switzerland and Liechtenstein, a combined market of only 14 million people.
The Indonesia-Australia (IA) CEPA, which has been discussed since 2010, has a deadline of late next year.
Traditionally, the two countries produce complementing products and services, except for cattle and horticulture.
Indonesia ships mostly automotive parts and paper to its neighbor, which has a population of 23 million, and also hopes for more investment from there.
At least 250 Australian firms already have a presence in Southeast Asia's biggest economy.
As export growth has slowed in recent years, Indonesia is trying to reach out to two non-traditional markets, Peru and Chile, which have populations of 30.7 million and 17.6 million respectively. Household spending accounts for more than 60 percent of the gross domestic products (GDP) of both countries.
Apart from the five aforementioned deals, Indonesia is also preparing for other potential agreements. It is currently carrying out a joint feasibility study with the Eurasian Economic Union (EEU), a bloc that includes Russia, Armenia, Belarus, Kazakhstan and Kyrgyzstan and comprises 183 million people.
It is also considering starting talks on a trade deal with either Egypt or Southern African Customs Union (SACU) and is reconsidering one with Turkey.
In the planned deals, Indonesia will seek to lure investors into priority industries and export more of its champion manufactured goods.
In the National Industry Development Masterplan (RIPIN) for 2019 to 2035, the Industry Ministry has set 10 priority industries to develop and defend amidst tighter global competition, including food, textiles, footwear, automotive, basic metals and minerals and electronics.
In line with the goal, economic policies to grab investment in those areas have been put into place and are partly aimed at reducing dependence on imported goods.
However, questions linger over whether Indonesia would benefit from the trade agreements it is seeking. Business players have long voiced such concerns, saying that it is necessary for the country as well as its industries to boost their own competitive edges.
Indonesian Chamber of Commerce and Industry (Kadin) deputy chairwoman for international relations Shinta W. Kamdani highlighted the lack of labor productivity and poor coordination between the central and regional administrations as some main stumbling blocks to provide a more conducive investment climate and lower production costs to compete with foreign products.
"There's much homework for us, ranging from regulations and productivity to labor issues. If we don't settle them, we can lose out in the global market," she told the Post.
The business group has already signed a memorandum of understanding with the Manpower Ministry, the Industry Ministry and Germany to create more internship areas and do talent matching with vocational schools across the country. It is scheduled to start next year.
Sharing a similar concern with Shinta, Indonesian Textile Association (API) chairman Ade Sudrajat said the most daunting task would be to improve the ease of doing business, which helps lure investment.
"Our policies must also be consistent and it requires regulatory impact studies. However, the reality at present speaks differently," he told the Post, referring to an antidumping duty that Indonesia applies on imported yarn from Taiwan, China and South Korea, which makes its textile products more expensive.
---