Is free trade just? Church speaks for those who fall through cracks
Catholic News Service/U.S. Conference of Catholic Bishops
Is free trade just? Church speaks for those who fall through cracks
By Barbara J. Fraser
6/12/2006
LIMA, Peru - Free trade agreements have become a bone of contention again in the Andes, and Catholics must take a stand, said an international economic development policy adviser for the U.S. bishops.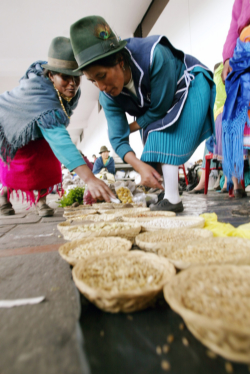 "Trade sets the rules that project opportunities for the future, and it has a tendency to raise hackles," Oblate Father Andrew Small said during a visit to Lima. "The question for the church is who benefits. There's a lot of evidence that too many people are falling through the cracks."
Trade agreements being negotiated with the United States have drawn protests from farmers fearful of losing their livelihoods and health workers who worry that drug prices will increase. They are also causing conflicts among heads of state.
In April, Venezuelan President Hugo Chavez announced that his country was pulling out of the Andean Community of Nations. He argued that the five-country pact was dead since Peru, Colombia and Ecuador were negotiating bilateral trade agreements with the United States.
Bolivian President Evo Morales accused Peruvian President Alejandro Toledo of betraying the region's indigenous people when his government signed a pact with the United States. Both Morales and Toledo are indigenous.
The topic also was on the agenda in Peru's presidential election campaign. Nationalist candidate Ollanta Humala Tasso called for renegotiating part of the trade pact, while candidate Alan Garcia - won the election June 4 - generally supported the agreement, although he said it should be reviewed and that compensation should be paid to farmers and others who may suffer negative effects.
Although Latin America's economy has grown for three years in a row - at a rate of 4.3 percent in 2005 - 40.6 percent of the region's people live in poverty, nearly half of them in destitution, according to the U.N. Economic Commission for Latin America and the Caribbean.
The sense that the supposed benefits of their countries' economic policies have not trickled down to the region's 213 million poor people has mobilized voters throughout the region. It was a campaign issue in Peru and was a factor in the election of Morales, who nationalized the country's hydrocarbon industry May 1, arguing that most of the revenues from the country's gas reserves should go into the coffers of the Bolivian government, not foreign companies.
Conferences of bishops in Latin America have issued numerous statements on the trade agreements over the past few years.
In their statements, Latin American and U.S. bishops have pointed out that "we cannot just throw ourselves to the wind of the free market," Father Small said. "The church has been very clear on that. It constantly reminds people that human-made laws can be tailored in a way that prioritizes those who most need assistance."
Catholics in the United States are becoming more aware of and involved in issues related to global trade through such activities as the Jubilee 2000 campaign for debt reduction and campaigns to end sweatshops in foreign factories producing goods sold in the United States.
Father Small said Catholics have "three levels of responsibility - to family, community and the wider world. Globalization is collapsing the distance between myself and that wider world."
When a shopper in a U.S. department store buys a piece of clothing that "appears on a register somewhere in Bangladesh, then (the) relationship with that community has suddenly become much closer," Father Small said.
That closeness, he added, should motivate Catholics to take action on issues ranging from immigration to foreign investment. The question, he said, is "what kind of globalization do we want and do we insist on?"
U.S.-funded lenders like the World Bank and Inter-American Development Bank play a significant role in shaping development in countries like Peru, Father Small said, "so don't let anybody think there's not a very direct link between taxpayer dollars and where they end up, particularly in Latin America."
One example is the huge Camisea natural gas project in the southeastern Peruvian jungle. The Inter-American Development Bank provided $135 million in financing for the first stage of the $2.5 billion project, which pumps natural gas and gas liquids from the Amazon River basin over the Andes to the Peruvian coast.
Since going online in August 2004, the gas liquids pipeline has broken five times. The most recent spill, in March, caused an explosion and fire that injured two residents of a village and damaged nearly 15 acres of forest and cropland.
Although the region of Cusco, where Camisea is located, receives about $300,000 a month in royalties from the project, virtually no money has reached the indigenous communities closest to the gas fields, according to the Machiguenga Confederation of the Urubamba River.
Projects like Camisea should "use natural resources in a way that the church has laid out, with good stewardship, taking care of the needs of the people," Father Small said. "From my visit, it's really not clear that it's doing that or that it's likely to do that any time soon."
While global trade is "the international order," he added, "the church needs to keep raising its voice for those who are forgotten."
---