Italy threatens to bring down EU-Canada free trade deal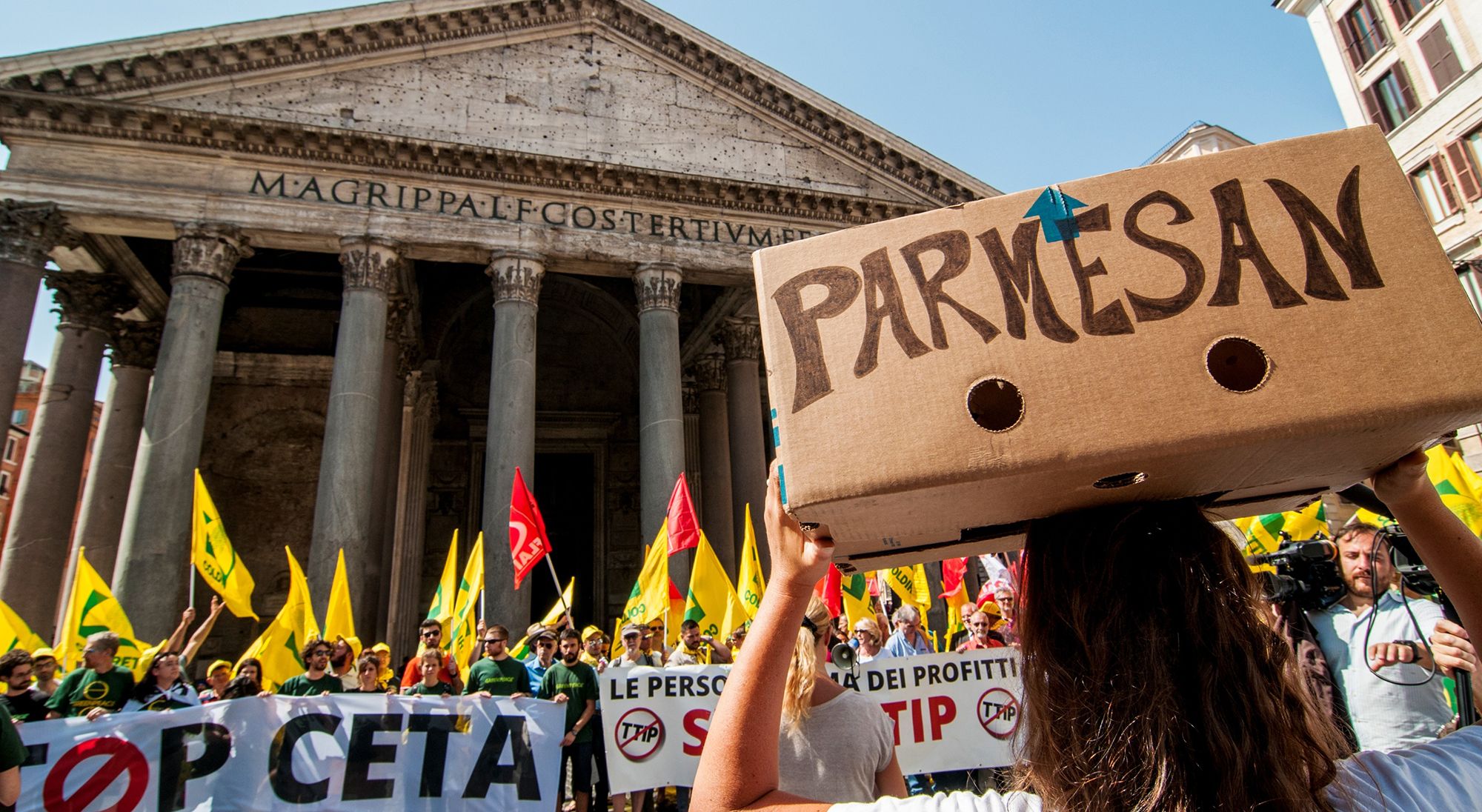 Wall St Journal | July 31, 2018
Italy Threatens to Bring Down EU-Canada Free Trade Deal
Citing farmers' complaints, antiestablishment government vows to seek parliamentary veto, which would annul pact for all partners
By Giovanni Legorano
ROME—Italy's new government wants to reject a painstakingly negotiated trade deal between the European Union and Canada, and that is welcome news to Ettore Prandini, a small farmer in Italy's fertile north.
Mr. Prandini, who sells milk to producers of the famed Grana Padano cheese, says his revenue is set to fall by a fifth this year compared with last. He blames the Comprehensive Economic and Trade Agreement, or CETA, which late last year eliminated tariffs between the EU and Canada on many products.
The dairy farmer objects to his Canadian counterparts now being able to compete more aggressively in Europe by offering cheeses similar to Italy's. "The food industry is a key asset for this country," Mr. Prandini said. "It must be protected."
Such complaints from small farmers have prompted Italy's new government, a coalition of the antiestablishment 5 Star Movement and the nativist League, to say it will vote down CETA in Parliament, although it has set no date for doing so. The agreement came into provisional and partial effect in September last year. To make the trade deal permanent and fully effective, all EU member states must ratify it. If one EU country rejects it, the whole deal is annulled.
CETA continues to be in effect for now, but the threat looms that Italy's dominant populist parties could shoot it down. The failure of the accord would deal a heavy blow to the EU's hopes of strengthening rules-based global trade by reaching similar agreements with other partners.
An Italian veto would also highlight the EU's growing challenge of maintaining common policies amid the rise of upstart, antiestablishment parties that derive much of their popularity from their willingness to defy EU authorities.
No EU country to date has derailed a trade accord after its approval by member governments and the European Parliament. If Italy doesn't ratify CETA, it would have to further notify the EU to begin the process of terminating the accord, which would remain provisionally in place in the meantime.
"There are always questions about trade policy," Daniel Rosario, trade spokesman for the European Commission, the EU's executive, said last month. "The European Commission is working together with member states to show that trade policies are mutually beneficial."
The 5 Star Movement and League have long expressed skepticism toward free trade, globalization, multilateralism and the EU, though neither party is pushing for Italy to leave the bloc. The two parties have vowed to protect small Italian producers such as Mr. Prandini from trade deals they say more likely benefit big corporations. They are also challenging the EU's attachment to open, competitive markets by pledging greater government intervention to protect Italy's airline and banking sectors.
"The narrative goes that if you look after Italian products on markets, if you try to defend a sector, you are populist, anti-European and anti-West," the 5 Star Movement's leader Luigi di Maio said earlier this month at a meeting of Italian farmers' association Coldiretti, which has campaigned fiercely against CETA. "Other countries do their job. It is we who have to defend Italy and the Italian economy."
EU data suggest Italy is already benefiting from CETA. Overall Italian exports to Canada have risen by 2% in the eight months since the trade pact came into provisional effect, compared with the same period a year earlier. Italian exports of food and livestock to Canada have fared even better, growing by 12%.
Italy's main business lobby Confindustria supports the trade agreement and is lobbying the government to help the EU stand up for free trade at a time when the U.S. administration of President Donald Trump has raised tariffs on some imports and is threatening to raise others.
"This deal is in the interest of our country, which is an exporter by vocation," Confindustria President Vincenzo Boccia said. "Due to protectionist policies coming from the U.S., we need to open other markets for what is the second-largest manufacturing economy in Europe."
But Coldiretti, which represents farmers exporting around €40 million ($46.8 million) worth of goods to Canada out of total Italian exports to Canada of €3.9 billion last year, says there are already signs the trade deal is penalizing its members.
Exports to Canada of cherished Italian cheeses Parmigiano-Reggiano and Grana Padano dropped by 10% in value in the first quarter, compared with a year earlier, Coldiretti says. Total Italian cheese and dairy exports to Canada fell 2% over the same period.
"It's been a good agreement," EU trade commissioner Cecilia Malmstrom said last month. "The Italian exports to Canada have increased."
Of all 28 EU countries, Italy, a country proud of its food to the point of obsession, has the largest number of food products with so-called protected designations of origin. CETA recognized more than 40 of these Italian protected labels, out of a total of around 250. Coldiretti says that isn't enough and that CETA lets Canada sell cheeses in Europe with Italian-sounding names such as "Parmesan" or "Gorgonzola."
Mr. Prandini says competition from Canadian Parmesan has led to a 15% price drop for high-quality Grana Padano, which in turn has pushed down the price of milk.
CETA is sacrificing Italy's farmers for other sectors' benefit, Mr. Prandini says. "It's just bad for us."
—Emre Peker in Brussels contributed to this article.
Write to Giovanni Legorano at giovanni.legorano@wsj.com
---