Japan free-trade hopes dashed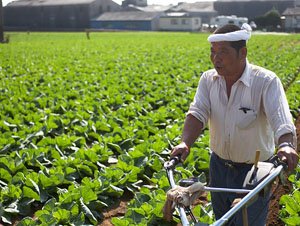 The Australian | August 27, 2009
Japan free-trade hopes dashed
Peter Alford, Tokyo correspondent
THE certain win for the Democratic Party of Japan in Sunday's election threatens to wreck Australia's hopes for a comprehensive free trade agreement with its second-largest trading partner.
The Australia-Japan FTA negotiations, now in their 28th month, look likely to founder on the DPJ's promise that no trade deal detrimental to Japanese food self-sufficiency and the domestic farm sector will be allowed.
The problem is agricultural protectionism, as usual, but this has been brought to a head by DPJ policy concessions to farming electorates, where the party hopes to overrun the ruling Liberal Democratic Party, to consolidate a huge victory.
Prime Minister Taro Aso's LDP has been out of power only once in 54 years - for 11 months in 1993-94 - but the opinion polls are signalling that the DPJ will take between 280 and 320 seats in Japan's 480-member House of Representatives.
Fixed on the prospect of a landslide, DPJ officials were this week unable to clarify what the election manifesto changes meant for the Australia-Japan FTA talks.
The Rudd government yesterday refused to speculate on the implications of the certain defeat of the Japanese government. A spokesman for Trade Minister Simon Crean said : "We're not going to make any comment ahead of the election - we don't get into hypotheticals."
An Australian official, speaking on background, said it was clear liberalisation of agricultural trade was "not going to happen any time soon".
The FTA negotiations are likely to resume after the election, but will be unable to deal with the critical element while the new government in Tokyo tries to untangle its farm commitments from the policies inherited from Mr Aso's LDP.
DPJ policy co-ordinator Tetsuro Fukuyama said the review process would take a year. "Once we understand the situation better, we will be able to respond more accurately," he said.
But the conflict would remain : the DPJ has promised no bilateral trade agreements will disadvantage Japanese farmers, while the Rudd government insists only an FTA tackling farm trade barriers is acceptable to Australia.
The FTA problem is clouding what looked like a good transitional relationship between Canberra and an incoming government under DPJ leader Yukio Hatoyama.
Australian officials say his policies on greenhouse gas reduction, which are much closer to Kevin Rudd's position than Mr Aso's, would see the two governments working closely in preparation for the UN climate change summit in Copenhagen in December.
DPJ and Australian officials agree the new government would support the Japan-Australia defence co-operation agreement and trilateral security discussions with the US - initiatives that were, like the FTA talks, first agreed between prime ministers John Howard and Shinzo Abe.
But the FTA talks have been overshadowed by agriculture, and Mr Abe had to campaign in his own cabinet for agreement even to start negotiations.
Australian beef is hit by tariffs of up to 50 per cent entering Japan - and quotas - while wheat has a tariff of about 250 per cent and is restricted in its use, and rice's tariff is more than 700per cent.
Wheat growers face another problem in the DPJ manifesto, which aims to achieve "complete self-sufficiency for staple grains", although Japan imports 95 per cent of its wheat requirements. "The measures will not include any which are detrimental to the safety and stable supply of food, increasing Japan's food self-sufficiency," it says.
Japan was Australia's largest trade partner last year, with merchandise exports and imports totalling $70.1 billion, but since April China has moved ahead.
---