Japan sacrificed cheese tariffs to get EPA done with EU
The Mainichi | 7 July 2017
Japan sacrificed cheese tariffs to get EPA done with EU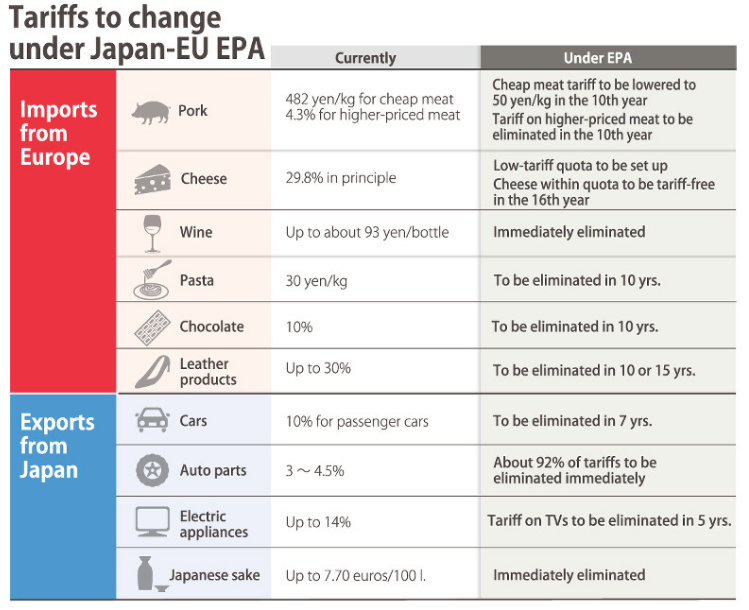 Japan and the European Union (EU) have reached a broad consensus on an Economic Partnership Agreement (EPA), raising expectations that Japanese consumers will be seeing cheaper European cheese, wine, chocolates and pasta on store shelves, while also dealing a blow to domestic dairy farmers.
Behind the Japanese government's decision to sacrifice the dairy farming sector lies the fact that cheese — the focal point of Japan-EU EPA negotiations — is not as politically sensitive as rice in Japan.
At a Japan-EU ministerial meeting in Tokyo on June 30, European Commissioner for Agriculture and Rural Development Phil Hogan urged Japan not to talk about the Trans-Pacific Partnership (TPP) free trade agreement, which the EU is not a party to. The request came when a Japanese official said during talks over tariffs on EU-made cheese products, "We cannot make more concessions than we made for the TPP," according to Japanese Minister of Agriculture, Forestry and Fisheries Yuji Yamamoto. Aside from Yamamoto and Hogan, the two-day meeting was also attended by Japanese Foreign Minister Fumio Kishida and European Commissioner for Trade Cecilia Malmstrom.
During negotiations over the TPP, whose signatories include New Zealand and other dairy farming powers, Japan agreed to eliminate tariffs on Gouda and other hard cheese, while maintaining tariffs on Camembert, mozzarella and other soft cheese popular among consumers, out of consideration for domestic dairy farmers.
In the recent EPA talks, Japan attempted to use the TPP precedent as a shield in negotiating with the EU over cheese tariffs. However, the EU — home to such world-renowned soft cheese producers as France — would not compromise on the issue. At one point during the ministerial talks, Yamamoto walked away from negotiating table over the EU's stance, raising concerns that the negotiations could break down, according to one Japanese trade source.
However, when Japan proposed setting up a low-tariff quota for EU-made cheese products, including soft cheese, EU officials became more flexible. By the time Hogan was set to leave the talks shortly before 8:30 p.m. on July 1, an agreement between the two parties over cheese was in sight, according to Yamamoto.
Behind Japan's own flexibility lies the fact that cheese — the main target of the EU's market liberalization calls — is not as politically sensitive as rice for Japan, according to a senior Japanese Foreign Ministry official.
While the number of rice farming households in Japan tops 1 million, the figure for dairy cattle farmers is below 20,000. A senior Liberal Democratic Party (LDP) official said, "The level of difficulty in EPA talks is different than for TPP negotiations, where rice was the focal point." Domestic agricultural groups were not vocal in opposing the EPA.
"Overall, we have not made greater concessions (for the EPA) than we did for the TPP deal," Yamamoto told a July 6 news conference. However, "some dairy farmers may feel anxiety over the eventual elimination of tariffs on soft cheese within a certain quota, while those tariffs were maintained in the TPP."
An LDP lawmaker with interests in the agriculture, forestry and fisheries industries, said, "We are already in talks with the agricultural ministry over measures for dairy farmers."
---