Jeju produce under threat by FTA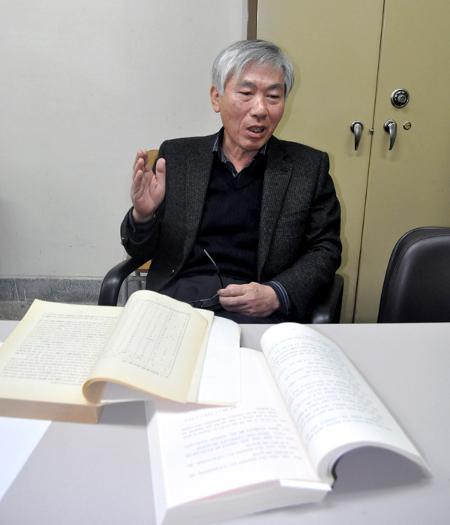 Jeju Weekly | February 24, 2012
Jeju produce under threat by FTA
Mandarin farmers should be worried over KORUS FTA, says JNU professor
The KORUS FTA officially goes into effect at midnight KST on March 15. — Ed.
With the new KORUS Free Trade Agreement (FTA), Jeju mandarin and Hallabong may go the way of former fruit that were once grown on the island.
The history of mandarins on Jeju goes back to the Joseon Dynasty (1392-1910), and even further based on some accounts. Jeju National University Professor Hyun Kong Nam of the department of industrial and applied economics and one of the authors of "The Development History of the Mandarin Industry" said they were grown here specifically as offerings to be presented to the king.
But it wasn't until the 1960s that Jeju really took to producing mandarins. "At the end of the 1960s, the government wanted farmers to make more profit so they gave them money to grow mandarins," Hyun told The Weekly from his office on the university campus.
And the government initiative worked. Between 1966 to 1967 the amount of land on Jeju devoted to mandarin farming almost doubled to 1,111 ha, and by 1971 mandarin production exploded by 5,778 ha, a huge jump compared to the decade before when mandarin farms only accounted for 63.6 ha.
Around the same time Jeju began to cultivate bananas and pineapples. "There was this custom," Hyun said, "that [President Park Chung Hee, in power from 1961 to 1979] would come down here and pick a farmer and give him money to raise a certain crop. He picked a Seogwipo farmer and gave him money to raise bananas." And other farmers followed suit.
It was mostly well-off farmers that adopted these crops because of the costly greenhouses needed for the fruits to grow in Jeju's climate. Before the late 1980s, Korea had strict control over the importation of goods, meaning that native bananas and pineapples had no foreign competition, and business was good.
"The banana was the most profitable crop I have ever seen," said Seogwipo farmer Moon Dae Jin, who began growing mandarins and pineapples in 1984, but his main crop was the banana.
"The mandarin was a good crop of large income, too. But banana and pineapple were more profitable. In 1984, it was a hit because it was profitable. Also, the growing period was short. It brings high income for the investment," Moon said.
It was not only farmers who were earning money from bananas but professionals like lawyers and businessmen who invested in the crop.
During the late 1980s, Korea's economy was rapidly growing and because of its quarter import system it had a large export surplus and the international community (primarily the US, Korea's largest exporting coun-try) requested that it start importing under the General Agreement on Tariffs and Trade (GATT), which Korea signed in 1967. GATT would later be replaced by the World Trade Organization in 1995.
"And the first thing that Korea opened up was bananas and pineapples," Hyun said.
With the more temperate climates of East Asian countries and more land mass devoted to the cultivation of these fruits they were much cheaper and in more abundance than those grown on the island, and Jeju couldn't compete.
"The Jeju banana was three to four times more expensive than the imported ones," said Moon. "That's because in Jeju, farmers had to build equipment [like green houses] so the production cost was high. In other countries, people don't need it."
Within two years there were no more banana or pineapple farms on the island and "a lot of people [went] bankrupt," Hyun said.
"The atmosphere was awful," said Moon. Many farmers had to sell their land and equipment, which went for one-tenth the original cost. Those who were able to keep their land went back to farming mandarins and, like Moon, used their green houses to grow Hallabong.
In 1995, Korea began importing oranges and since 1998 (the year with the most amount of land devoted to mandarins), the farming hectares for mandarins has been on a steady, yet gradual decrease from 25,802 ha to 20,947 ha in 2010. And Hyun predicts that because of the FTA, profits from this ubiquitous Jeju fruit will be severally damaged.
Currently, the cost to import fruit is 50 percent of the purchasing price. When the FTA is enacted on a date yet to be decided, that number will drop to 30 percent within the first three years, and in seven years there will be no taxes at all.
"There will be a vast amount of oranges coming in because they are cheap. A lot of economists and farmers believe … if people can buy the oranges for a cheaper price [than mandarins]" they will, Hyun said.
To prevent the mandarin going the way of the banana, the FTA states that during its harvest period from September to February, import taxes will go back to 50 percent. For Hyun, this causes more problems than it tries to solve, for the mandarin will have to compete with foreign oranges from March, greatly affecting farmers' profits.
Though mandarins are expected to be hit hard because of the FTA, all fruits that Korea and Jeju produce will lose value, "especially Hallabong and expensive mandarins," Hyun said. "They will be more influenced because their harvest season is from February to April. Starting in March oranges can come in for cheap."
Hyun says the government suggests that farmers change crops to lessen supply and up the demand, but for him this isn't enough.
Hyun offered three suggestions; increase greenhouse farming research, change to growing green tea or flowers, and "you can quit farming and go get a job somewhere else."
"The farmers should be worried," Hyun said. "What the government is suggesting, is not necessarily the best option to follow, so the farmers have to be smart."
(Interpretation by Angela Kim and Kim Jung Lim)
---