Korea-US FTA to cause large reduction of farm production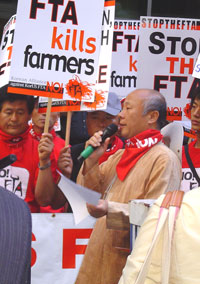 Yonhap 2011/10/04
Korea-U.S. FTA to cause large reduction of farm production
SEOUL, Oct. 4 (Yonhap) — The implementation of the signed free trade agreement (FTA) with the United States will likely cause billions of dollars in damages to South Korea's farming industry, a government report showed Tuesday.
According to the report from the Ministry of Food, Agriculture, Forestry and Fisheries, the Korea-U.S. FTA will lead to a reduction of 12.67 trillion won (US$10.5 billion) in production by the country's agricultural, farming and fisheries industries in the next 15 years.
The proposed free trade deal was signed over four years ago in June 2007 and the U.S. government, after successfully renegotiating terms of the agreement with South Korea late last year for additional benefits, sent the FTA to U.S. Congress on Monday (Washington time) for ratification.
The deal, seen mutually beneficial, is expected to boost South Korea's exports of manufactured goods, such as automobiles and house appliances but also expand Seoul's imports of U.S. farm products.
The ministry report, submitted to the parliamentary food, agriculture, forestry and fisheries committee for annual inspection, said the FTA will cause the country's farm production to dwindle by some 700 billion won in the fifth year of its implementation alone.
It said the reduction of output will further expand to a little over 1 trillion won in the 10th year and to 1.27 trillion won in the 15th year.
The report said the most severely affected will be the livestock industry, whose accumulated production will decline by nearly 7.3 trillion won in the first 15 years following the implementation of the FTA.
Seoul already has plans to support the country's farmers and help make up at least part of their losses due to the Korea-U.S. FTA and is in the process of updating the measures devised shortly after the deal was signed in 2007.
Still, Agriculture Minister Suh Kyu-yong says the FTA should be a chance to improve the competitiveness of the farmers.
"It is true the agriculture industry is one area that will take the most negative impact from an FTA, but efforts to minimize the impact should focus on strengthening our farmers' own competitiveness rather than compensating their losses," he told a recent press conference in Seoul.
"Opening of our market can be a crisis but also an opportunity as it means opening of foreign markets to us."
bdk@yna.co.kr
---