Korea, US wrap up 2nd round of FTA talks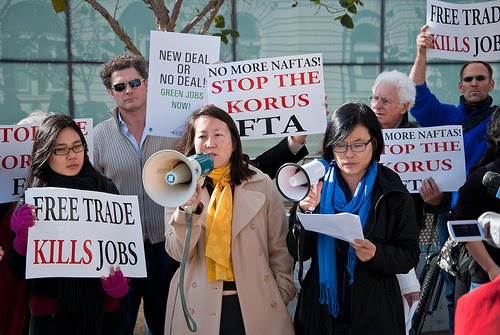 Korea Times | 1 February 2018
Korea, US wrap up 2nd round of FTA talks
By Yoon Ja-young
Negotiators from South Korea and the United States failed to narrow differences over key trade issues in their second round of talks to amend the countries' bilateral free trade pact (KORUS FTA) that ended Thursday.
Korean negotiators led by Yoo Myung-hee, deputy minister for FTA negotiations at the Ministry of Trade, Industry and Energy, and their U.S. counterparts led by U.S. Assistant Trade Representative Michael Beeman completed the two days of talks in Seoul, following the first round held in the United States, Jan. 5.
As the two parties have agreed not to disclose to the public crucial issues mentioned during the negotiations, details discussed during the two-day meeting remain unknown.
In a media release following the meetings, however, the trade ministry confirmed that there were wide differences over the investor-state dispute settlement (ISDS) clause and trade remedies, among others.
"We stressed that the negotiations for any revision should follow the principles of balanced interests and mutual benefits," it noted.
"We informed the United States of our detailed suggestions and stance regarding the ISDS clause and trade remedies. Stances on market access and tariffs were also exchanged," it added.
The United States has been thought to be abusing trade remedies, which include U.S. President Donald Trump's recent signing of safeguard tariffs on foreign washers and solar panels. The measure is expected to incur huge losses to Korean exporters including Samsung and LG.
According to local media, the U.S. party demanded during the negotiations that the "country of origin" in the bilateral pact should be toughened, to suppress Korea's automobile exports to the United States. It also demanded the easing of emission regulations on automobiles, a tactic to increase exports of U.S. cars. Washington's pressure on the automobile sector had been widely expected, since it makes up to 80 percent of its trade deficit with Seoul.
The government added that it will continue gathering opinions from related interest groups and experts regarding the revision of the KORUS FTA. It also plans to prepare for upcoming negotiations, preparing measures with related ministries based on discussions made at this meeting.
The two countries agreed to hold a third round of talks in Washington D.C.
---