Labour's TPPA-11 spin omits inconvenient details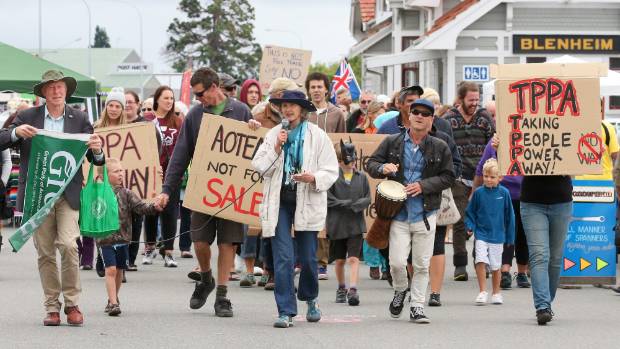 Scoop | 12 November 2017
Labour's TPPA-11 spin omits inconvenient details
by Professor Jane Kelsey
Press Release
'Having agreed to the National government's original Trans-Pacific Partnership Agreement, with some aspects suspended pending a possible US re-entry, the new government has begun to spin its achievements, while omitting some inconvenient details', says University of Auckland law professor Jane Kelsey.
'Some of what the Prime Minister referred to as potential protections, such as a three-year review that would hypothetically allow removal of the investor-state dispute mechanism (ISDS) and protection of investor screening under the Overseas Investment Office from ISDS, were not in the Annex of agreed suspensions released by the trade ministers in Vietnam.'
'If there is more, we need to see it so we can evaluate the government's claims. I am inherently suspicious given the spin that trade minister David Parker has put on other provisions', she said.
'For example, the minister claims that investors with government contracts cannot now use the ISDS provision to enforce those contracts. He needs to acknowledge they can still bring a dispute relating to those contracts where they allege a breach of the investment chapter's rules. That is where the real power lies'.
Professor Kelsey points out that the protections for labour and environment the minister cited are extremely weak. The standard general exception provision is full of caveats and has only succeeded fully in the WTO twice in 46 disputes.
More importantly, the US refused to allow that exception to apply to the investment chapter in TPPA. That has not changed. Instead there is a contingent protection for the expropriation rule (Annex 9-B), which will depend on how private investment arbitrators interpret it in a dispute, but that does not apply to the main rule investors rely on in ISDS disputes (Art 9.6). Another, circular provision allows governments to adopt health, environment other regulatory measures provided they are consistent with the agreement! (Art 9.16)
Professor Kelsey also points out that the side agreement with Australia not to use ISDS was in the original agreement. 'The fact that most investment comes from Australia does not protect us from investment disputes. Corporations are notorious for incorporating in locations where they can take advantage of ISDS provisions. The more countries we are exposed to through the TPPA-11, the greater the prospect of a dispute.'
'Whether the minister has been misled on their effects or is taking short cuts with the real legal position, the effect is to misrepresent the potential impacts of the re-branded agreement. We expect more of this government'.
'We need full disclosure, including of New Zealand's requests for changes to the original deal, immediately. The government also needs to take advantage of the hiatus in the negotiations to hold an open-minded consultation process. That's what the Trudeau government did when it was faced with the original TPPA-deal, and it appears to have listened to its people's concerns. We deserve the same.'
---