Malaysia's PM Mahathir urges TPP 'renegotiation' during trip to Tokyo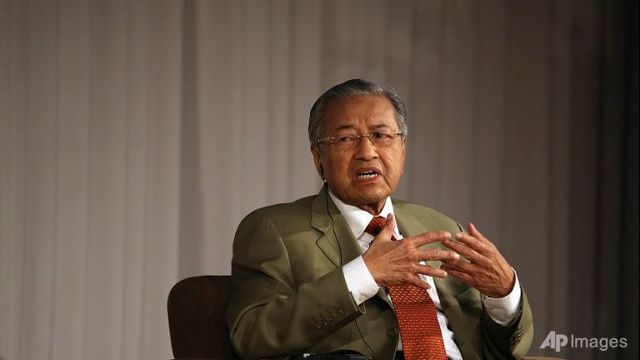 South China Morning Post | 11 June 2018
Malaysia's PM Mahathir urges TPP 'renegotiation' during trip to Tokyo
Malaysia's newly-elected prime minister called on Monday for the Trans-Pacific Partnership to be "renegotiated" and urged protection for small countries in international trade.
Malaysia, along with 10 other countries, pushed ahead with the TPP in March despite Donald Trump having yanked the United States out of the huge multilateral trade deal.
But Mahathir Mohamad told a gathering in Tokyo he was "not very keen" on the agreement.
"We need TPP renegotiated," he said in a speech at "The Future of Asia" forum.
"We have to recognise: just as there are infant industries, there are infant nations, nations which are just beginning to grow," he said. "They need to have some privileges, some protection for themselves, because they are not in a position to compete with the great trading nations, the great manufacturing nations of the world."
Eleven countries circling the Pacific signed a slimmed-down version of the TPP in March, opting to proceed with the deal after it was left for dead when Trump pulled out to pursue his "America First" agenda.
The US president has since sparked fears of a trade war by levying steep tariffs and denouncing trading practices he says are unfair, even rejecting a joint communique at the G7 summit over trade disagreements.
Mahathir, on his first foreign trip since his election victory last month, said countries like Malaysia needed a helping hand in international trade.
"The countries with little capacity to compete must be given due consideration. It is like playing golf … the weakest people get the highest handicaps," he said. "In that way competition would be much fairer."
Mahathir said the ideal would be a broad trade pact such as the East Asian Economic Caucus (EAEC) he proposed during his previous administration.
"Yes, I am still in favour of EAEC. In the past, of course, we were not able to do this due to the objections of America, but now America seems to become isolationist again so it is not in a position to demand that we cannot form EAEC," he said.
Alliance Bank Malaysia chief economist Manokaran Mottain said Mahathir, who had a first stint as premier from 1981-2003, was by nature a protectionist.
"The interest of his small country comes first," he said. "Mahathir does not want to be manipulated by the big players in the [TPP]."
He also noted there had been "widespread domestic opposition" in Malaysia to the original TPP deal.
But Woo Wing Thye, an economist from the Jeffrey Cheah Institute on Southeast Asia at Malaysia's Sunway University, said Mahathir's move was simply part of a "comprehensive review" of all policies of the former government.
Woo also questioned what good the TPP was without the US.
"The big payoff from TPP is better access to the US market but Trump has now removed the primary reason to join it – so why bother?"
Mahathir defeated the long-ruling coalition led by scandal-plagued leader Najib Razak, who was accused of overseeing the theft of billions of dollars in public money. He denies any wrongdoing.
Mahathir's visit is seen as a sign of Malaysia's move away from China, which contentiously pumped billions of dollars into Najib's administration.
The new government has said some Chinese companies are suspected of being used to cover up the graft scandal at state fund 1Malaysia Development Berhad (1MDB) that contributed to Najib's downfall.
Mahathir said foreign direct investment should involve bringing in capital and ideas.
"We have to deal with China whether we like it or not, we should deal with it as a group," he said.
Mahathir did not mention the 1MDB investigations.
He also said Malaysia hoped to possibly start a new national car project, perhaps with help from Southeast Asia, but did not give further details.
State-owned Proton was founded in 1983 during an industrialisation push in Mahathir's first term. Its domestic market share peaked at 74 per cent a decade later but Geely bought 49.9 per cent of the struggling carmaker last year, marking the Chinese automaker's first push into Southeast Asia.
The signatories to the TPP represent 13.5 per cent of the global economy and a market of 500 million people.
The deal was pushed by former US president Barack Obama's administration in part as a way to counter growing Chinese commercial power.
It cuts tariffs and requires members to comply with a high level of regulatory standards in areas like labour law and environmental protection.
---