May seeks to preserve gains from EU-Japan trade deal for UK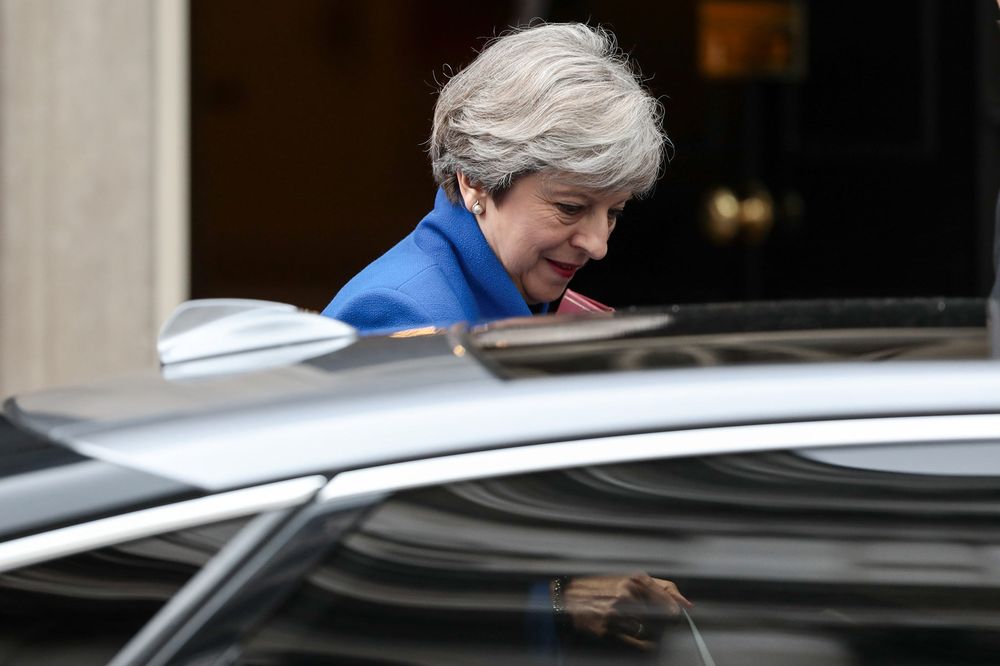 Bloomberg | August 29, 2017
May seeks to preserve gains from EU-Japan trade deal for UK
By Alex Morales
Prime Minister Theresa May said she's keen for the U.K. to keep any benefits from a potential trade deal between the European Union and Japan after its scheduled departure from the bloc in March 2019.
"There's obviously a number of trade deals that the EU has with other countries and we are looking at the possibility of those being able to brought over certainly as initial trade deals with the United Kingdom," May told reporters Wednesday on a flight to Japan ahead of a three-day trip. "That I think will give business certainty which is what business wants at the point at which we leave."
Her lofty goal of convincing the world's third-biggest economy to use its trade deal with the EU as a basis for a future agreement with Britain comes as North Korea sours the mood with its latest missile tests. May will sit down with Prime Minister Shinzo Abe, Emperor Akihito and military and business officials, as she seeks to offer a key Asian ally and trade partner the kind of reassurances her top diplomat failed to do when he visited last month.
Japan is in the final stages of brokering a free-trade agreement with the world's largest trading bloc, from which the U.K. is breaking away. That puts May in a difficult position, as her own predecessor hailed it as a landmark that would add an annual 5 billion pounds ($6.5 billion) to the U.K. economy.
The reality is that May will need all her powers of persuasion to extract commitments from the Japanese, given that her own team of negotiators in Brussels has failed to convince the EU to hurry divorce talks onto commerce.
To make the case, May takes with her 15 business executives, from Aston Martin Lagonda Ltd. Chief Executive Officer Andy Palmer to Confederation of British Industry Director General Carolyn Fairbairn. Trade Secretary Liam Fox will also be on the plane.
May Comes Courting
"My discussions with Prime Minister Abe will focus on how we can prepare the ground for an ambitious free-trade agreement after Brexit, based on the EU-Japan agreement which I very much hope is nearing conclusion," May said in a statement Tuesday evening.
With Softbank Group's purchase of ARM Holdings Plc and factory expansions by Nissan Motor Co. and Toyota Motor Corp., Japan is eager for reassurances — not just the platitudes it got from Foreign Secretary Boris Johnson. That includes support on how to contain North Korea's growing menace, after the latest missile launch over Japan.
Describing Japan as "our closest security partner in Asia," May said she will discuss with Abe "how we can work much more closely together on cyber security, counter-terrorism and defense — more important than ever in this uncertain world."
She will become the first ever European leader, and only the second foreign one, to address Japan's National Security Council.
Nuclear threats aside, Japanese officials will be looking for something far more concrete. According to the Daily Telegraph, they will demand she convey the end to a "sense of crisis" for 1,000 Japanese companies working in the U.K. that employ 140,000 people.
Provide Continuity
"It's right that Japan are focused on concluding that deal and the prime minister fully supports that," May's spokeswoman, Alison Donnelly, told reporters in London. "What we want to do is make sure that we have continuity."
When Johnson visited Japan in July, he goofed around for the television cameras — gaping mouth open next to a humanoid robot — and emerged from meetings with Japanese counterparts declaring that they wanted to turn the EU deal into "a fantastic, all-singing, all-dancing, U.K.-Japan" agreement.
Donnelly said May will reiterate to Abe that Britain is seeking transitional Brexit arrangements lasting no later than the general election scheduled for 2022 to ensure "that there is certainty for businesses and people."
While the visit will be her first to Japan as premier, she hosted Abe at her countryside retreat in April and met him at various international summits. It was during a brief meeting in September at the Group of 20 summit in China that Abe reminded her of the extent of Japan's investment in the U.K. and how it's tied to access to the single market.
That came days after Japan published a 15-page paper setting out the threats to Japanese companies in Britain if exit terms are too tough. It warned that firms are considering moving their European headquarters out of the U.K.
May's message that she's seeking a transitional period to smooth Britain's departure from the EU is likely to be "reassuring" to Japanese companies, Shinichi Iida, minister for public diplomacy at the Japanese Embassy in London, said on Tuesday in a BBC Radio interview.
"What Japanese businesses are expecting in my view is the clarity and the predictability of the process to come," the diplomat said. "The recent remit within the U.K. government for the provisional period will be a very important factor because it will give the time and adaptability for the Japanese companies to adjust to a new environment after Brexit."
---