Mexican farmers block border with US to protest free trade accord
Xinhua | 2 January 2008
Mexican farmers block border with U.S. to protest free trade accord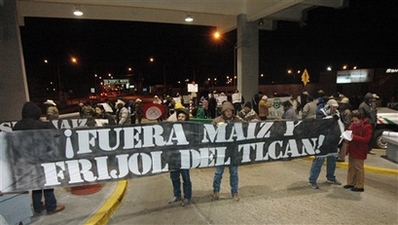 MEXICO CITY, Jan. 1 (Xinhua) — Some 200 Mexican farmers blocked on Tuesday the Cordoba-Americas bridge linking the country with the United States to protest the North American Free Trade Agreement (NAFTA).
The farmers demand a revision of the agreement among Mexico and its northern neighbor of the United States and Canada, which lifts tariffs for U.S. and Canadian exports of corn, beans, sugar and milk powder.
The measure will damage Mexico's corn and bean farming, two basic food for local people, said Victor Quintana, head of the Farmers' Democratic Front that organized the protest.
The farmers closed the bridge that links Ciudad Juarez in Mexico and El Paso in the U.S. state of Texas at 0:00 a.m. Tuesday (0700 GMT) and the blockage was expected to last 13 hours, Quintana said.
Many farmers in the country believe the tariff lift will deal a fatal blow to the already fragile agriculture in the country.
Following several years of negotiations, the United States, Canada and Mexico agreed to launch a North American Free Trade Agreement in Jan. 1994.
The agreement will remove most barriers to trade and investment among the countries. Under the NAFTA, all non-tariff barriers to agricultural trade between the United States and Mexico were eliminated.
In addition, many tariffs were lifted immediately, with others being phased out over periods of five to 15 years.
Corn, beans, sugar and milk were granted special 15-year import protection when the NAFTA was negotiated in 1993, time that was supposed to be used to prepare Mexico for competition. Tuesday should be the end of the adjustment period.
---