Mexico unsure if it will finish NAFTA talks with US in August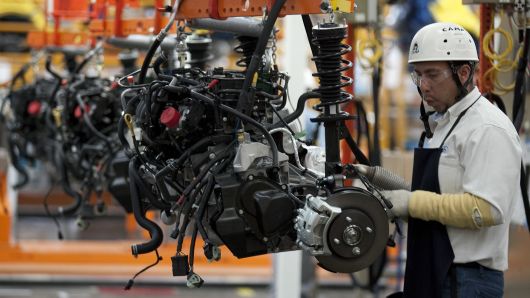 Reuters | 15 August 2018
Mexico unsure if it will finish NAFTA talks with US in August
MEXICO CITY (Reuters) - Mexico's economy minister on Wednesday said that Mexico and the United States may not meet an August goal to finish bilateral talks to revamp the NAFTA trade deal, which is beset by disagreements over automobile trade rules and other issues.
Top Mexican officials started their fourth week of talks with U.S. Trade Representative Robert Lighthizer in Washington over a new North American Free Trade Agreement.
Asked if the August goal was still viable, Guajardo said, "That is why we are here. We are fully engaged. We don't know if there will be a successful conclusion."
The U.S.-Mexico talks resumed in July, without Canada, after negotiations involving all three members of the $1.2 trillion trade bloc stalled in June.
Guajardo said on Wednesday that he had spoken with Canadian Foreign Minister Chrystia Freeland on the telephone and was "hopeful" Canada could soon hold trilateral NAFTA talks with the United States and Mexico.
Guajardo was joined by Foreign Minister Luis Videgaray, Mexico's chief NAFTA negotiator Kenneth Smith, and Jesus Seade, the designated chief trade negotiator of incoming Mexican President Andres Manuel Lopez Obrador.
Smith said Mexico and the United States were "working well" on the most difficult issues.
Mexico and Washington have been discussing rules for the automotive sector, which has been a major point of contention between the two countries.
The United States has sought tougher rules on what percentage of a vehicle's components need to be built in the NAFTA region to avoid tariffs, as well as demanding that a certain number of cars and trucks be made in factories paying at least $16 an hour.
New sticking points emerged last week over President Donald Trump's threat to impose steep automotive tariffs.
Guajardo said the teams had not yet touched the issue of a U.S. proposed sunset clause that would kill NAFTA after five years if it is not renegotiated again. Both Mexico and Canada have said they reject the measure.
---