Mourão pledges to back Lebanon on Mercosur agreement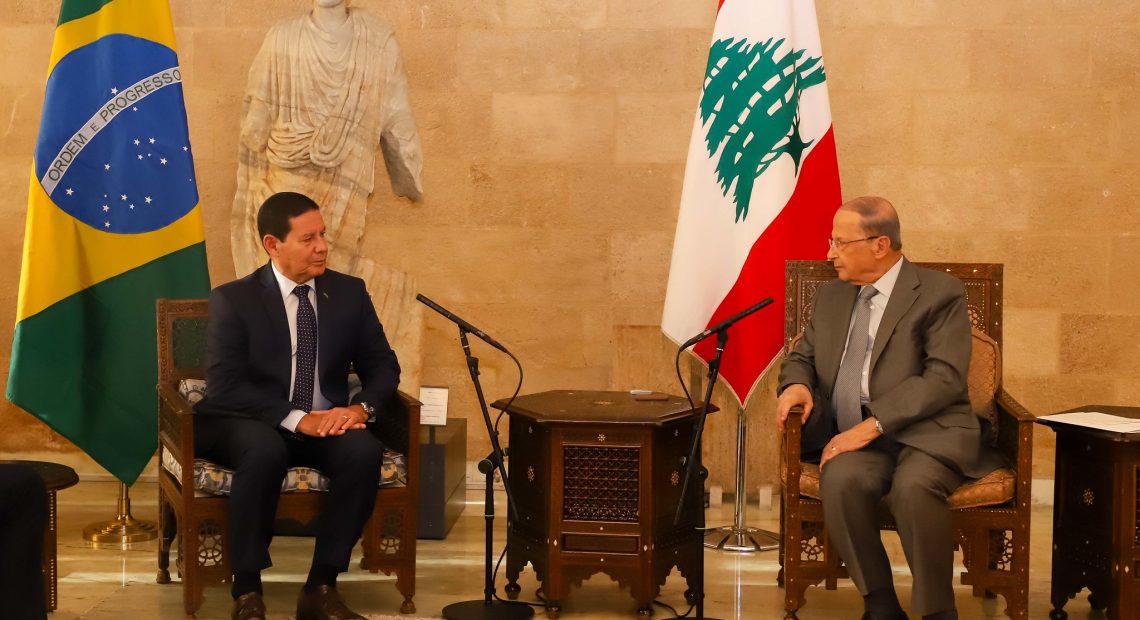 MENAFN | 20 May 2019
Mourão pledges to back Lebanon on Mercosur agreement
by Adriano Souza
São Paulo – The vice president of Brazil, Hamilton Mourão, was welcomed by the president of Lebanon, Michel Aoun, Friday (17) in Beirut. He pledged to support the Arab country in entering into a free trade agreement with the Mercosur. The information was made public on the Aoun's official Facebook page.
Talks for a Lebanon-Mercosur agreement have been underway since 2014. Lebanese authorities have discussed the matter with officials from former Brazilian administrations, and Lebanon's Foreign Trade minister Hassan Mourad visited Brazil in early May to go over it again with local authorities.
Aoun said a memorandum of understanding was signed during the meeting with the Brazilian vice president. Just like Lebanon, other Arab countries have expressed their willingness to enter into a free trade agreement with the Mercosur, but the only one in effect is with Egypt.
During the meeting with Mourão, Aoun also called on Brazil to back up a Lebanese initiative, the creation of the Human Academy for Encounter and Dialogue, an international center to connect different religions, cultures and ethnicities. The VP said Lebanon can count on Brazil, according Aoun's Facebook page.
At the meeting, Lebanon's president said Brazil and Lebanon sustain historical and human relations and mentioned the fact that Brazil has welcomed 8 million Lebanese immigrants. He also thanked the Brazilian Navy for its work in Lebanon – Brazil leads the United Nations Interim Force in Lebanon (UNIFIL), whose goal is to ensure a weapon-free area along the Israeli border.
Mourão's official schedule on Friday (17) also included a visit to a Brazilian Navy frigate currently deployed to Lebanon. The Brazilian VP stopped over in Lebanon on his way to China, where he currently is. He is slated to visit Italy on his way back.
Brazil-Lebanon political and diplomatic ties are long-standing, but the volume of trade is not strong. Brazil grossed USD 270 million from exports to Lebanon last year, the bulk of which was meats, coffee, livestock, cereals and sugar. Lebanon sold USD 27.5 million worth of goods to Brazil in 2018, with fertilizers making up the near entirety of exports.
---