New Zealand part of mystery initiative at request from United States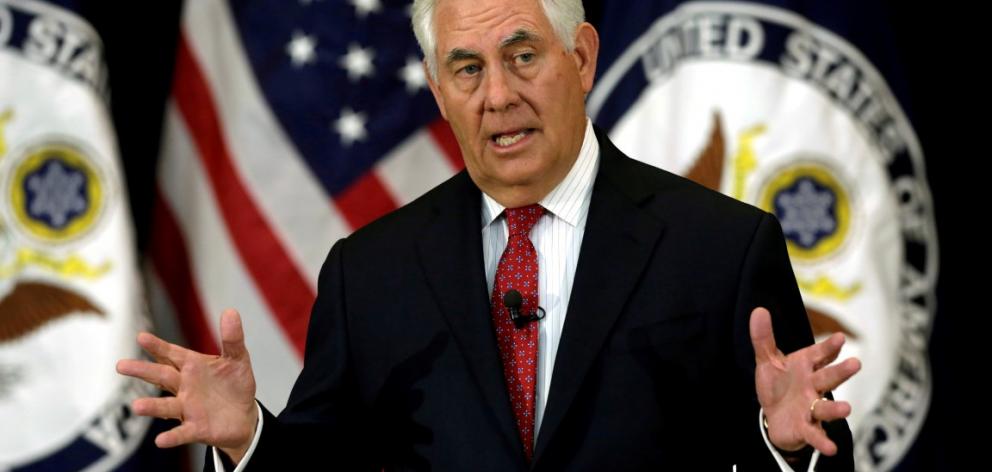 Stuff | 15 November 2017
New Zealand part of mystery initiative at request from United States
by VERNON SMALL
New Zealand appears to have joined a mysterious "regional initiative" at the request of the United States, but the matter is being kept under wraps.
There have also been suggestion the initiative could include a trip to North Korea, but Foreign Affairs Minister Winston Peters would not confirm anything, saying : "I can't tell you about the details of it."
However, it is understood the more likely scenario is a plan to address the Myanmar crisis, where the situation with the persecuted, and essentially stateless, Rohingya people has continued to escalate.
The issue came to light after US Secretary of State Rex Tillerson sought a meeting with Peters during the East Asia Summit in the Philippines on Tuesday.
It was the second discussion Peters has had with Tillerson in recent days including an informal meeting on the fringes of the Apec meeting in Vietnam.
"Tillerson called, and he wants New Zealand to be engaged in something and we hope to be able to tell you something about it in the next few days," Peters said.
It was to do with the region "and initiatives coming in the future" and Prime Minister Jacinda Ardern had been advised.
But asked if it related to US President Donald Trump's tweet saying he would be making "a major statement from the White House upon my return to DC. Time and date to be set" Ardern said : "One would be unwise to predict the nature of any of President Trump's tweets".
Read also : Abe, Trump seek Indian-Pacific strategy to counter China
The announcement was made near the end of a busy day for Ardern that included the East Asia Summit, where she focused on regional security particularly "the need for all actions short of military action" when it came to North Korea.
She said it was in New Zealand's interests to encourage sanctions against North Korea and that they are enforced across the region.
Ardern set out New Zealand's focus on a solution to the South China Sea dispute is based on international law and through consensus on a "code of conduct" and also set out her position on climate change.
"I see New Zealand as playing a role of continuing to highlight that in international forums where we have a voice."
Peters has travelled to North Korea in the past, and on his first day as Foreign Minister he raised the issue, saying North Korea was not "an utterly hopeless case".
In 2007, Peters visited North Korea as Foreign Affairs Minister under Helen Clark's leadership.
At the time, a number of people thought New Zealand could help dissuade the then-regime to give up its nuclear development programme, for substantial economic development as a compensation, or as an incentive.
Peters' trip did not achieve this, but he said it was worth the try.
However, he did manage to secure safe harbour for 97,000 birds that transit North Korea in their migration to New Zealand.
"Maybe we can shoot higher this time and maybe we'll be successful," Peters said during a press conference last month.
"We need to better understand that region and make our contribution, albeit as a small country but an informed one."
ARDERN MEETS WORLD LEADERS
The summit also discussed Myanmar and the crisis that has seen the Rohingya Muslim minority fleeing violence and killing by the army and militia groups.
Ardern said the general sentiment was one of "friendship to Mynamar, to express a willingness to support them to find a resolution and to find a way for those who are now stateless to be resettled".
She also had a formal meeting with the president of the EU Council Donald Tusk, that discussed a planned free trade agreement, and a meeting of the Regional Comprehensive Economic Partnership free trade nations.
She also met India's Prime Minister Narendra Modi with the two exchanging invitations to visit each other's countries.
Ardern was scheduled to meet Philippines President Rodrigo Duterte late on Tuesday - her last meeting of the summit - where she said she would raise human rights concerns and New Zealand's opposition to his drug policy that has seen thousands of vigilante-style killings.
---