No to trade deals that threaten democracy!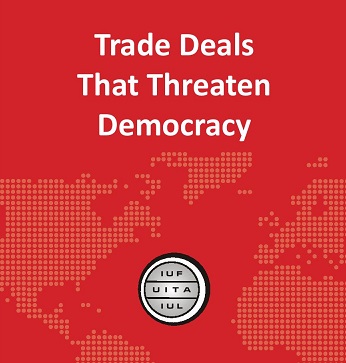 IUF | 21 May 2014
No to trade deals that threaten democracy!
Usually we write you with very concrete requests to support workers fighting for their rights in specific conflicts. We know from experience that messages can make a difference, and we appreciate your continued support and solidarity.
This time we're sending a different kind of action alert and asking for a different kind of support.
Governments are currently negotiating, under conditions of strict secrecy, two giant trade and investment treaties which will impact enormously on our lives as workers, citizens and consumers: the EU-US trade deal now known as the Transatlantic Trade and Investment Partnership (TTIP) and the twelve-nation Trans-Pacific Partnership Agreement (TPPA) between Australia, Brunei, Canada, Chile, Japan, Malaysia, Mexico, New Zealand, Peru, Singapore, the United States and Vietnam.
If these treaties come into force, they will weaken elected government and strengthen corporate power at all levels. They must be defeated, and popular pressure can do this, just as it stopped the Multilateral Agreement on Investment and the Free Trade Area of the Americas.
A new IUF publication, Trade Deals That Threaten Democracy, exposes the corporate power grab at the core of these two mega-treaties, how they build and expand upon the toxic web of the thousands of investment treaties which have been layered on to the WTO rules and why the labour movement should throw its full support behind the growing movement in outright opposition to these deals.
You can download the brochure here. We urge you to read it, distribute it, spread the word in your unions and in your communities, and tell your political representatives "No to trade deals that threaten democracy!"
Also available in French, German, Spanish and Swedish
---