Norway's PM softens stance on Britain joining EFTA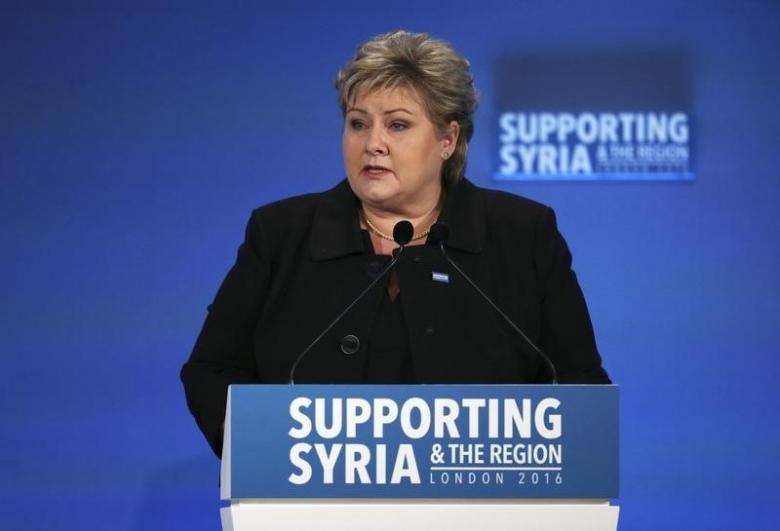 Reuters | 18 Aug 2016
Norway's PM softens stance on Britain joining EFTA
Norwegian Prime Minister Erna Solberg said she saw some advantages if Britain joined the four-nation European Free Trade Association (EFTA) after quitting the EU, qualifying past doubts about British membership.
Solberg also said in an interview with Reuters that Britain's 65 million people would radically change EFTA, which now comprises Norway, Switzerland, Iceland and Liechtenstein with a combined population of just 14 million.
Prime Minister Theresa May is undecided about her country's future role in Europe after Britons voted to leave the European Union in a June referendum.
One option could be to join EFTA, which Britain helped found but quit to enter the EU in 1973, though it is far from clear that is a path that Britain wants to follow.
"It's easy to see some advantages of British membership. It's a big country with a big economy," Solberg said.
But that benefit of more clout also means Britain might demand conditions that would mainly help it — rather than its putative EFTA partners — when negotiating trade deals.
"Some countries will probably think it's fine to have a free trade deal with us (EFTA), but won't necessarily think that it's equally simple to have a free trade deal with Britain," she said.
EFTA has about 30 free trade deals with nations including Canada, Chile, Morocco and Singapore.
Solberg cited farming as one example of a possible conflict of interest. Britain exported food and drink worth 18 billion pounds ($24 billion) in 2015 while Norway imposes high import barriers to protect farmers in a country that stretches into the Arctic.
"I don't think that the EFTA path is necessarily the way Britain should be interested in going," she said.
She said her Conservative Party was in "continuous dialogue" with their peers across the North Sea led by May, whose first weeks in office have been dominated by a debate over the terms and timing of Britain's divorce from the EU.
Overall, Solberg's comments were less skeptical about British membership than shortly after Britain's vote, when she stressed that it would "change the balance of power in EFTA".
That variable picture has parallels within the EU, where Germany has held out the prospect of granting Britain a special status in its post-Brexit relationship while France has pushed for a more hardline approach.
Within EFTA, all member countries have to approve new members, giving each a theoretical veto.
"It would be wrong to flag a veto or no veto now, and I believe anyway that we will find good solutions to these problems," Solberg said.
She said it was important for all countries to set out their national interests in the debate. "Then all must be prepared for anything, if it turns out that Britain joins EFTA," she said.
Alongside being members of EFTA, Norway, Iceland and Liechtenstein also have free movement of goods, services and people with the 28-nation EU. Switzerland is outside that deal.
($1 = 0.7599 pounds)
(Writing by Alister Doyle; editing by John Stonestreet)
---