Opposition to EU-US trade deal growing as negotiations start in Brussels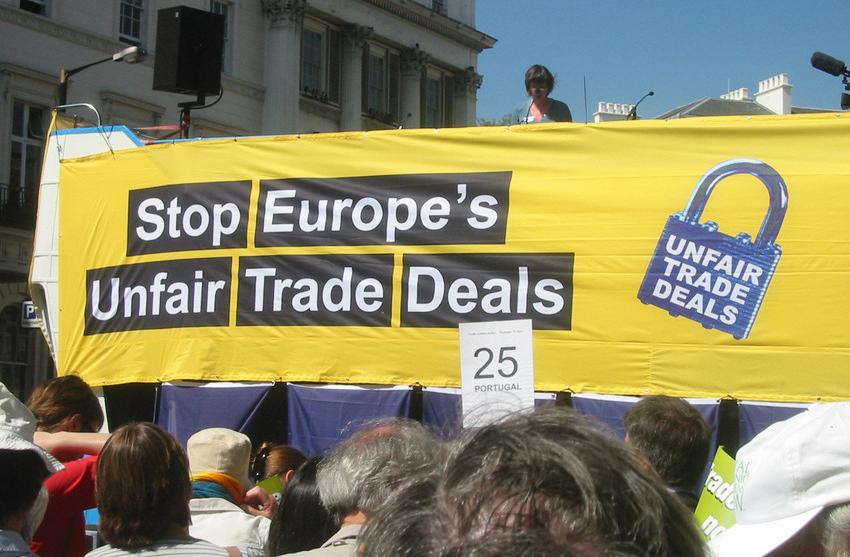 WDM | 10 March 2014
Opposition to EU-US trade deal growing as negotiations start in Brussels
By Miriam Ross
Trade unions and campaign groups have written to Vince Cable calling for a halt to negotiations on the EU-US trade deal, as talks begin in Brussels today.
The groups, including the UK's second biggest trade union UNISON, environmental, social justice and anti-poverty organisations, believe the Transatlantic Trade and Investment Partnership (TTIP) will undermine democracy, threaten public services and lead to lower standards in a range of areas including environmental protection, workers' rights and food safety.
The letter to the Business Secretary uses recent research to show that the trade deal is unlikely to significantly boost employment, and points to the European Commission's own work which suggests it will cause "prolonged and substantial dislocation of EU workers as a direct result of TTIP which will simply entrench European inequality."
Signatories to the letter claim that TTIP will essentially be an 'investor protection' treaty, giving private companies more power over public services, government procurement and a raft of social and environmental standards. This protection will be enshrined in a proposed investor state dispute settlement (ISDS) which would give corporations additional power to sue the British government. The letter calls for a halt in the TTIP negotiations.
Nick Dearden, director of the World Development Movement, said today:
TTIP is not about creating more jobs, it's not even about trade as most people understand it. Rather, the essence of TTIP is 'investor protection' – handing more power to big business.

There are real fears that TTIP will bind the hands of future governments – for instance preventing a British government from extending public control over energy companies, or from undoing recent changes which have allowed for semi-privatisation of the NHS. It is, therefore, an attack on our very democracy.
British groups will join campaigners from across Europe and the United States in Brussels this week for strategic discussion on how to counter TTIP.
Negotiations between US and EU trade representatives began in Brussels today (Monday 10 March) and continue for the week. This is the fourth round of negotiations, and negotiators aim to move the process forward substantially this week.
The letter is signed by: Dave Prentis, UNISON; Paul Kenny, GMB; Sally Hunt, University and College Union; Christine Blower, National Union of Teachers; Andy Atkins, Friends of the Earth; Nick Dearden, World Development Movement; John Hilary, War on Want; Jim Cranshaw, People and Planet; Ruth Bergan, Trade Justice Movement; and Anne Scott, Women's International League for Peace and Freedom.
Read the letter to Vince Cable
---