Our Sister's Garden and the KORUS FTA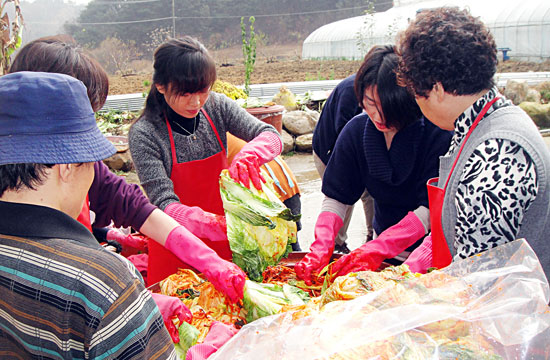 The Hankyoreh | 12.05.2012
Our Sister's Garden and the KORUS FTA
By Ben Cooper and Kellyn Gross
It's a cold day in February. Farmers and volunteers assemble food boxes in a small warehouse in rural Gangwon province. All of the farmers and most of the volunteers are Korean women.
Everyone is bundled in dark coats, scarves and hats. They have formed a line alongside tables stacked with seasonal, organic produce. Cardboard boxes are assembled at the table farthest from the door and passed on. First radish, then tofu, rice, beans, kimchi, greens and eggs are packed into each box.
The farmers do this every Tuesday at the warehouse. From here, the food boxes are delivered to customers as far away as the capital Seoul two-hours west. They are members of Our Sister's Garden, and their goal is to directly reconnect rural food producers and urban consumers.
Our Sister's Garden was started by the Korean Women Peasant's Association (KWPA). The gardens stem from KWPA's native seed protection campaign in 2007. The idea was to build small-scale community cooperatives that practice sustainable food production, with the intent to provide local consumers with organic produce grown from native seeds.
Hoengseong Women's Peasant Center General Director, Han Young Mi said, "One campaign expanded to several campaigns. And we are launching a campaign to provide seasonal food for our consumers-indigenous seasonal food."
But KWPA's goal is not to have as many consumers as possible, but to have Sister's Gardens across the country that allow people in any urban area to buy products directly from farmers. Han said, "Our goal is this: we have a producer's community in rural areas, so we want the natural work of the producers to be available in urban areas. I hope that producers and consumers work together."
This interaction provides the basis for a relationship that goes beyond how producers and consumers usually work. KWPA is first and foremost a support network, and one that initially began in response to changes brought on by free trade agreements with the US and European Union.
Korea today is less food sustainable than it once was because of the opening of agricultural markets. According to the most recent figures provided by the Korean Ministry of Agriculture and Forestry, Korea had a food self-sufficiency rate of about 27 percent in 2009. It was 80 percent in 1970. Han Young Mi said, "The life of the peasant in Korea is getting difficult. We have three million peasants left, who do not want to move to the city. They want to stay to farm here."
The result is that Korea's food industry is vulnerable to fluctuations in international grain prices. With the decreased reliance on domestically produced food it's now more difficult for farmers to get by. The number of farmers in Korea fell from about 14.5 million in 1970 to 3.5 million in 2004.
The long-negotiated Korea-US Free Trade Agreement, or KORUS FTA, was ratified in Korea on November 22nd of last year and went into effect March 15th. It is expected to make things still more difficult for Korean farmers. According to Han Young Mi, "We cannot compete with American peasants and Chilean producers. For example, in 1995, oranges were introduced to the Korean market. They swept the Korean market. Before then, we Koreans never ate oranges. But in a tiny store in rural areas, there were a lot of oranges. So, instead of consuming domestic products, people started to consume imports."
Of the approximately three million farmers in Korea 1.6 million women. Many men from rural areas have migrated to cities seeking higher paying employment. Women are often left behind, and joined by women from other Asian countries who have immigrated to Korea through marriage. It is therefore predominantly women who suffer the consequences of the changing nature of South Korean rural society.
It is these changing conditions that have led many to oppose international trade agreements such as the KORUS FTA. At the time of the agreement's negotiations, protests were held throughout the country calling for its abolishment.
On February 11th, a small group of FTA protesters holds a candlelight vigil at Seoul Plaza next to City Hall. These vigils happen every Saturday in Seoul. Larger groups gather to demonstrate on decisive dates and when the weather isn't as cold. However small at times, the group has a strong voice. A van has been remodeled with a stage and loud speakers. People from civic groups and Korea's opposition party take to the stage and address the people.
The crowd is dotted with small, red placards that read, "Scrap the KORUS FTA! Lee Myung-bak Resign!" Some are wearing masks with the same slogans; some are holding white flags atop tall poles that represent their organizations.
Throughout the KORUS FTA negotiations, interested stakeholders and the public at large were provided no formal setting for democratic debate on the agreement. Korean civil society, and especially farmers, were upset that the government held FTA talks in 2006 before a public hearing was even held. Feeling that they lacked a channel for participation, some 270 civic organizations representing millions of workers, farmers, academics and artists formed the Korean Alliance Against the KORUS FTA and have been protesting in the streets of Seoul ever since.
The KORUS FTA is the largest trade deal for the US since NAFTA, and it's a Bush legacy agreement that will further deregulate finance, banking, manufacturing, healthcare and agriculture in both countries. Provisions of the agreement will further dismantle Korea's environmental and public health laws, as well as allow for a greater increase of GMOs in Korea's food supply from US firms like Monsanto, DuPont and Dow Chemical. Jae Jun Joo of the National Task Force Against the KORUS
"Big companies like Cargill and Monsanto have the power to control the price. They buy agricultural products at a cheap price, and they sell them at a premium—higher price to other countries. So, the FTA is not fair trade. So, the future profits will not go to peasants, but big companies like Cargill and Monsanto."
These are the most critical issues for Korean farmers. The FTA has created a disparity between small-scale farming and American agribusiness. Competition may be too great to protect domestic food production and employment.
"We lose two trillion won every year because we are importing that amount of agricultural products from other countries. In this case, the United States. That means, ten percent of the population—300,000 peasants—will be forced out of their businesses every year. That means the end to our agricultural base. So, the FTA is a system for the one percent of the people. So, the rest of the people-the 99 percent-have to get together and to break this down."
Yet, Our Sister's Garden is a still a viable solution to current agricultural practices. Women farmers in Korea are protecting their livelihoods, food and health through sustainable cooperatives.
These empowered women have also been elected to local government and started centers that offer free and open education. By spreading awareness about community-supported agriculture in Korea, Our Sister's Garden working towards food security.
There is an inherent synergy between those that produce food in rural areas and urban consumers. Our Sister's Garden is helping bring out that mutually reliant relationship, despite ever more challenging circumstances.
Kellyn Gross and Ben Cooper are ESL teachers in rural Gangwon province and are part of the International Strategy Center's (http://iscenter.or.kr/) media team. The Center exposes foreign nationals to issues affecting the Korean Peninsula and communicates their experiences through the media.
---