Out of TPPA frying pan, into EU-FTA fire? - Kelsey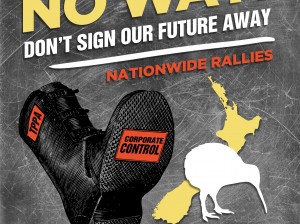 Voxy | Wednesday, 26 March, 2014
Out of TPPA frying pan, into EU-FTA fire? - Kelsey
'The National government is striking a brick wall in getting major concessions on dairy from the US and Japan in the Trans-Pacific Partnership Agreement (TPPA). It will have an equal or greater battle in its plans for a free trade agreement with the European Union', said Professor Jane Kelsey from the University of Auckland, in response to reports that such negotiations are possible.
The EU has consistently protected its agriculture sector at the multilateral level during the Uruguay and the Doha rounds of multilateral negotiations. That position has carried through in its various bilateral agreements.
'Some of the EU's standard demands will conflict directly with the proposed TPPA' Professor Kelsey says.
'In particular, the Europeans require their agreements to contain strong protections for geographical indicators, such as the traditional names of European cheeses like camembert and parmesan. New Zealand, Australia and the US have been pushing for the opposite rules in the TPPA.'
According to Professor Kelsey negotiations with the Europeans would, like the TPPA, range far beyond 'free trade'.
Europe's pharmaceutical companies are just as aggressive as US Big Pharma in the US.
The European services lobby will also push for sweeping rules that lock in deregulatory frameworks for banking and other financial services, privatised water concessions, public private partnerships, telecommunications, and much more.
'These are all areas where New Zealand needs a free hand to remedy the problems of light handed and risk tolerant regulation of recent decades', Professor Kelsey observed.
'On the positive side of the ledger, the EU has refused to agree to US demands for a similar level of secrecy in the Trans-Atlantic Trade and Investment Partnership to that which applies for the TPPA.'
The Europeans have already agreed to release the draft investment chapter for public comment before it is tabled in the negotiations. The European Parliament can be expected to subject any talks to intensive scrutiny.
'Equally significant are the announcements from France and Germany this month that they will not accept investor-state dispute settlement in any agreement with the US. That is further proof that the tide is turning on this particularly iniquitous feature of recent commercial treaties.'
However, a similar approach in an EU-NZ agreement would not protect New Zealand from investor claims by European firms, according to Professor Kelsey. 'Many European firms span the Atlantic and could use a backdoor route to sue the New Zealand government under the TPPA. '
The TPPA negotiations with the US and ten other countries have already taken four years without any resolution. Professor Kelsey predicts that any negotiation with the EU would drag on interminably.
---