Pakistan fishermen to protest arrival of China trawlers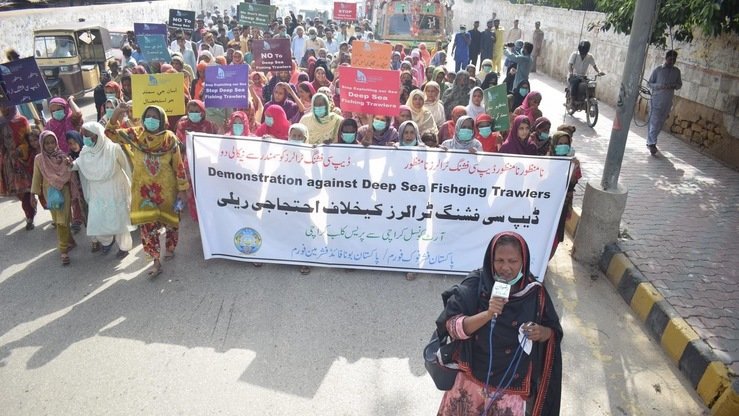 New Straits Times - 03 September 2020
Pakistan fishermen to protest arrival of China trawlers
Pakistan fishermen in two provinces said they will protest the arrival of 20 Chinese deep-sea trawlers given licences to fish in their waters.
The Pakistan Fisherfolk Forum announced the campaign against the trawlers' arrival off the coast of Sindh and Baluchistan provinces in the first week of last month.
According to a Nikkei Asian Review report, the Chinese trawlers will be able to fish in the exclusive economic zone off the two provinces and it has raised concerns that it will deplete the declining fish stocks.
According to the PFF, fish stocks in coastal areas have already declined by more than 72 per cent since last year due to uncontrolled fishing.
It is learnt that the trawlers have yet to start fishing.
PFF chairman Muhammad Ali Shah said the vessels threatened the livelihoods of small fishermen by ecologically destroying the sea.
Following PFF's action, fishermen in the southwestern city of Gwadar have also announced a campaign against the vessels.
Gwadar is a central part of the US$50 billion China-Pakistan Economic Corridor, a part of China's Belt and Road Initiative.
In the past, Gwadar fishermen have protested against Belt and Road infrastructure projects that prevented them from going to sea.
Gwadar Fishermen Alliance president Khuduaidad Waju said the Chinese ships would badly hurt fishermen.
"Fishing in the sea is a source of livelihood for more than 2.5 million people in the coastal towns of Sindh and Baluchistan, and the new trawlers will deprive us of our livelihood."
"Allowing the Chinese deep-sea trawlers to fish is tantamount to selling the seas of Baluchistan to them," he added.
He said the fishermen would hold protests against the Chinese vessels next week.
The issue has reached the National Assembly with Gwadar representative Aslam Bhootani saying the arrival of the Chinese trawlers had created fear among the area's fishermen.
Bhootani said Gwadar fishermen had small boats and couldn't enter deep waters.
Experts view the protests against the backdrop of wider resentment against Chinese economic expansion in Pakistan under the Belt and Road.
Faced with depleted fish stocks in the seas around China, Beijing's giant trawlers are increasingly targeting new waters, such as the Arabian Sea off the coast of Pakistan.
---