Peru exports endangered wood despite US trade pact -NGO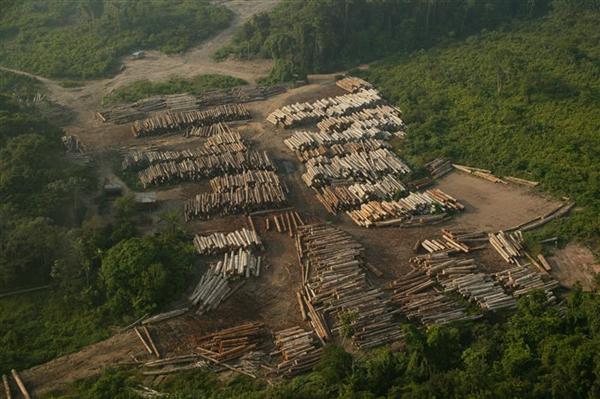 Reuters | Tue Apr 10, 2012
Peru exports endangered wood despite US trade pact -NGO
LIMA — (Reuters) — Peru needs to do more to halt exports of endangered cedar and mahogany from the Amazon rain forest as it opens its economy to free trade, a conservation group and exporters said on Tuesday.
The U.S.-Peru free trade agreement passed by Congress in 2007 includes provisions meant to prevent the export of endangered wood species to the United States, but those efforts have been tainted by corruption in rural areas, they said.
Peru is one of Latin America's fastest-growing economies, and its exports will likely increase in coming years as its trade agreements with major economies like the European Union and Japan go into force. It also has a vast informal sector dedicated to mining and other resource extraction.
The Convention on International Trade in Endangered Species (CITES), which Peru is required to honor under its free trade commitments to the United States, requires exporters to present certifications of origin for cedar and mahogany wood.
The certifications are supposed to guarantee the precise location of logging and ensure sustainable forestry practices, but the Environmental Investigation Agency (EIA), and NGO, says it found irregularities in 35 percent of the certified wood Peru exported to the United States from May 2008 to May 2010.
"The state says that Peru doesn't export illegal wood because all the wood leaves with legal documents," said Julia Urranaga, an adviser for EIA. "The problem is that these papers don't have the capacity to guarantee the wood's origin."
EIA says authorities that grant forestry concessions in Peru's rain forest frequently issue documents that trace the wood's origin to trees that do not actually exist, meaning the certified wood really comes from protected nature reserves or lands reserved for uncontacted indigenous tribes.
The practice is eliminating trees that help ward off climate change and taking advantage of poor, vulnerable populations that are forced to work in unsafe environments, the group says.
"Illegal logging is the fruit of a criminal structure, a wood mafia," said Francesco Mantuano, general manager of export company Amazon Exports (OPEX).
He says it is hard to find responsibly harvested wood.
Peru passed a forestry law in July of last year to help formalize logging and put it in compliance with the U.S. Free trade agreement, but the law has not yet been implemented.
Peru will also receive some $150 million in forestry conservation funding from international organizations in coming years, when its new trade agreements also go into effect. (Reporting By Caroline Stauffer. Additional reporting by Doug Palmer in Washington. editing by Gunna Dickson)
---