Peruvian violence prompts concerns over Canada's push for free trade deals
Embassy Magazine | 24 June 2009
Peruvian Violence Prompts Concerns Over Canada's Push for Free Trade Deals
While the government and Liberals say the agreement will help the country, critics say the U.S. experience should prompt caution.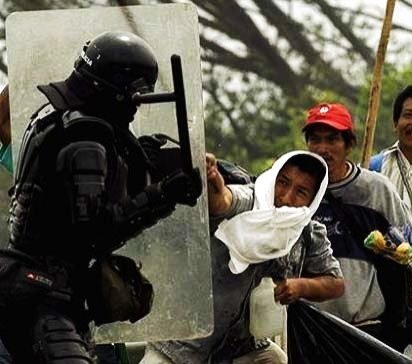 by Michelle Collins
While a great deal of scrutiny has been directed toward Canada's free trade agreement with Colombia, there has been little said about a similar deal with Peru. In fact, last Wednesday, on one of the final days of Parliament, that agreement barely made a ripple as it quietly received Royal Assent.
Under President Alan Garcia since 2006, Peru has strived to boost its economic and trade status, seeking trade agreements with its neighbours and leading powers such as the U.S., China and the European Union. The economy has grown uninterrupted since 2001, expanding by almost 10 per cent in 2008, while poverty rates are declining sharply, and per capita income has doubled over the last few years.
But opposition to growing trade and foreign interest has been anything but quiet. Last week, an ongoing protest in the country's Amazonian region escalated into deadly clashes with police, the resignation of the country's prime minister, the sudden revoking of controversial laws, and a nationally broadcast apology from the president. It all occurred as the Canadian government and Liberal Opposition formalized the Canada-Peru trade agreement, and raised barely a peep about concerns around land use, mining and indigenous rights.
Political Backlash
Trouble began after Mr. Garcia used exceptional executive powers allowing him to bypass Peru's Congress to tag 99 legislative decrees onto implementing legislation for the U.S.-Peru trade agreement.
Two of the most controversial decrees, numbered 1064 and 1090, would have opened 45 million hectares of the Amazon and its oil, gas and forestry resources to foreign investors while privatizing community land plots without prior consent. Experts say the laws would have undermined the rights of the country's indigenous peoples. And though Mr. Garcia claimed the controversial laws were necessary in order to abide with the U.S. agreement standards, it has since been revealed there are no such legal obligations in the FTA.
Rather, experts say Mr. Garcia used the U.S. trade agreement as an excuse to give his government and private interests greater control of the resource-rich lands in the country's Amazon, an area home to indigenous peoples, and to do so without any consultations. A few years ago, Mr. Garcia took to writing editorials claiming that the riches of the Amazon were going to waste, and he is keen to open the region up to investors.
Protests opposing the decrees included sit-ins and roadblocks in the northern city of Bagua, and, at one point, a group of police officers guarding a pumping station were taken hostage. Violent clashes with police began on June 5 when Mr. Garcia, described by critics as an incredibly intelligent yet impetuous and hot-tempered leader, sent in police and instructed them to use force. It all came to a dramatic end two weeks ago, but rather than take control of the situation, the showdown sparked the unravelling of Mr. Garcia's political grasp.
Late last week, Mr. Garcia took to the nation's airwaves to officially apologize and say it was wrong to have not first consulted with indigenous leaders. Decrees 1064 and 1090 were overturned. Prime Minister Yehude Simon has resigned, and there are calls for the resignation of Interior Minister Mercedes Cabanillas over condescending remarks she made about those who live in the Amazon region.
"They got a black eye," said Robert Kozak, a Peru-based reporter for the Wall Street Journal, of the toll on the government. "They got a really bad hit to their image on this one. They were being arrogant."
The police are said to have been ill-prepared, the planning haphazard, and the overall strategy "botched and bungled." Official reports say 24 police and 10 protesters were killed, though human rights groups have insisted the number of dead civilians is much higher and many more have gone missing.
"It's the only thing people are talking about," Mr. Kozak said. "[Peru has] 24 police dead, the biggest single-day death toll for national police in history, a lot of government ineptness. They didn't read the situation, they didn't understand the natives are very serious about control of their land and control of foreign investment and the sense that the government was handing over what they considered to be their traditional land. It just looked like the government didn't take into account their concerns."
Too Late?
In a statement issued June 18, International Trade Minister Stockwell Day praised the agreement and its benefits after it received Royal Assent. However, while international media reported widely on the deadly clashes and a Globe and Mail editorial on June 13 condemned the Peruvian president, Mr. Day made no mention of the troubles in Peru.
"These agreements will help increase prosperity, help provide better working conditions, and improve environmental management," Mr. Day said. "We recognize the progress made so far, and we will continue to engage Peru on these issues. This is another example of the government's commitment to strengthening our relationships in Latin America."
The controversy in Peru has been linked solely to Peru's trade agreement with the U.S as the deal with Canada has yet to be ratified there. Canada's trade agreement has not once been implicated, and Minister of State for the Americas Peter Kent told Embassy on Friday that Mr. Garcia's questionable actions and the eruption of violence do not raise concerns about signing a trade agreement with the Peruvian government.
"On one hand we are proud of the agreement and we're certainly not shirking from proclaiming that pride." Mr. Kent said. "There were no Canadian companies involved or affected, so the linkage that folks might make shouldn't be made, because our free trade agreement and this tragedy don't have any obvious or visible connections."
Liberal Foreign Affairs critic Bob Rae also stood by the merits of the Canada-Peru free trade agreement and said the killings and dispute were internal matters for Peru, though he said he had expected some kind of statement condemning the violence from the Canadian government.
"This isn't about the free trade agreement, let's not confuse things here," Mr. Rae said. "It's obviously important for us to continue to work to get the government of Peru to clarify and to provide some certainty with respect to the legal situation as it relates to land claims. The simple fact of the matter is those issues need to be resolved in the context of Peruvian law, and Peruvian society, and we hope that they would be resolved."
In an interview, Peru's ambassador to Canada, Jorge Castaneda, emphasized the efforts made by Mr. Garcia in reconciling the situation, noting the president's national apology and efforts to convene a commission that will recommend new laws.
"The laws were necessary, but people say the scope was bigger than required to address the free trade agreement, so this is just different points of view," Mr. Castaneda told Embassy on June 19. "Regarding the free trade agreement with Canada, it has nothing to do with the riots and incidents because the decrees, 1090 and 1064, were given not regarding the free trade agreement with Canada, but the United States. They are similar, but not exactly."
But others are not so quick to dismiss Canada's role in boosting free trade and inflaming the tensions between Peru's government and its indigenous peoples.
"It raises concerns about free trade agreements and how they're negotiated, and how they're utilized and what governments, like the Garcia government, try to pull off under the guise of what's necessary under free trade agreements," said Karyn Keenan, program officer at the NGO Halifax Initiative. "If it's about allowing multinational companies to get into the Amazon and other areas, then is that why Canada is negotiating treaties with countries like Peru?"
Canada leads the world's mining sector and has significantly boosted its presence in the Latin American country. The Canadian International Development Agency recently made Peru a top recipient of bilaterial aid and funds programs to strengthen regulations in the country's extractive sector. Last month, Export Development Canada opened a new representation office in Lima to work with the more than 250 Canadian companies in the Andean region.
"We're in exactly the same position as the U.S., that is that this agreement is designed to foster particularly Canadian investments, and Canadian investors are going to operate, and do operate in exactly this area and many other areas where there are conflicts," said University of British Columbia political science professor Maxwell Cameron. "So we are implicated in the sense that we are major players in the development of the resources in these areas.... The broader point is we're definitely investors in the mining sector and we have growing foreign investments in Peru, so it is inevitable that for Canadian firms, the whole issue of our corporate citizenship will be important."
In a letter to Prime Minister Stephen Harper, the Canadian Council for International Co-operation, an umbrella group of dozens of NGOs, asked the Canadian government to call for a full investigation into the fighting and situation in Peru.
"According to Peruvian commentators, President García used his 'fast track' trade authorization from Congress to go far beyond what was necessary," states the June 15 letter. "This should be of grave concern for the Canadian government."
Last Thursday, the Polaris Institute and the Indigenous People's Solidarity Movement Ottawa held a joint press conference on Parliament Hill to decry the actions of the Peruvian government and call on Canada to stop the trade agreement. Having just returned from Peru, activist Ben Powless characterized the events as the "criminalization of the indigenous movement."
"These decrees violated all environmental, indigenous and international agreements in order to deliver the Amazon to transnational companies. Mining companies are some of the key players behind this," said Manuel Rozental, a Canadian-Colombian surgeon and human rights activist. "By ratifying the agreement, Canada has entered this war on the side of expropriation and destruction and in the midst of a massacre."
Canada's Parliament, however, has officially ratified the agreement and it appears there is no turning back now. Many in favour of the trade deal, including Messrs. Kent and Rae, say the side agreements on labour and the environment are in fact tools to promote corporate social responsibility that Canada wouldn't otherwise have.
Mr. Cameron suggests the trade agreement can be the vehicle through which Canada, if it so chooses, leverages influence to improve human and labour rights.
"To have an agreement like this come out at the same time that there's a major massacre certainly no one would say that's good," Mr. Cameron said. "I do think what we should do is continue to monitor as closely as possible the human rights situation and use whatever leverage our free trade agreement gives us to talk with the government."
mcollins@embassymag.ca
---