Peruvian workers warn about national strike
Peruvian Workers Warn about National Strike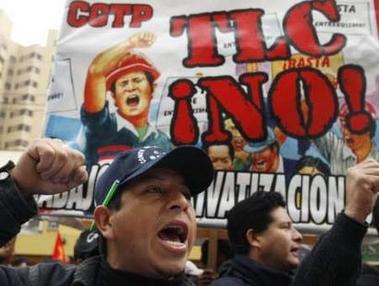 Lima, Aug 8 2007 (Prensa Latina) — The General Confederation of Peruvian Workers (CGTP) warned on Tuesday that it will stage a national strike to demand higher salaries and to protest against the Free Trade Agreement with the United States.
The strike was announced by CGTP Secretary General Mario Huaman at a rally in front of the International Labor Organization to protest against violations of labor rights.
He said that if the government does not meet the demand for higher salaries and in defense of Peruvian agriculture from the negative effects of the FTA, the CGTP will stage a national strike like the one that shook the country on July 11.
He added that the CGTP will coordinate those measures with governments and regional fronts, as well as organizations of farmers and students.
"We will fight together against this neoliberal policy that ( ) is a synonym of abuse, violation of labor rights and more exploitation," Huaman stressed.
He ratified that his organization have quit the Social Pact, a mechanism of dialogue between workers and employees created by the government to negotiate salaries and employments.
The CGTP pulled out from the Social Pact because Labor Minister Susana Pinilla refused to apologize for having accused its leaders of betraying the homeland for opposing the FTA.
Besides, he said, that forum will not solve the employers' abuses and other violations of labor rights.
---