PH eager to forge FTAs with Mexico, US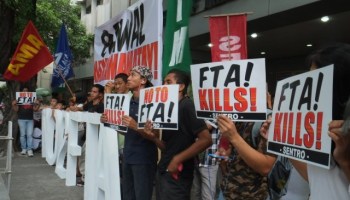 Manila Bulletin - 9 June 2020
PH eager to forge FTAs with Mexico, US
By Bernie Cahiles-Magkilat
The Philippines will pursue separate discussions with Mexico and the US for potential free trade agreements with each these two countries.
Trade and Industry Secretary Ramon M. Lopez revealed this during a webinar with Philippine ambassadors including Ambassador Jose Manuel G. Romualdez, Canada Ambassador Petronila P. Garcia and Mexico Demetrio R. Tuason where he discussed the Philippine Business Environment: Post COVID-19. The webinar was organized by the Foreign Trade Service Corps. (FTSCs) of the DTI.
For Mexico, Lopez said he had a talk with his Mexican trade minister counterpart verbally where he proposed to start "explore the bilateral discussion and potential FTA."
"Mexico has been a historically strong trading partner and hopefully we can start moving forward," he said.
DTI Undersecretary Ceferino Rodolfo, who is also Board of Investments managing head, said that while there has been discussion for bilateral FTA with Mexico, both countries can start with the signing of a Joint Economic Committee (JEC), which is more of collaboration and partnership agreement for both countries.
"We are just waiting for a reply from the Mexican side on the draft JEC agreement that has been on the table," he said.
On the US-Philippines, Lopez said the Philippines is ready to enter into formal negotiations for bilateral FTA with the US. However, he said, this will also depend on timing and moves from the US side.
"We understood, the US Trade Representative will have to have an approval from the US Congress and that is just what we are waiting for. But the Philippines' side, we are ready to continue discussions," he said.
The US-ASEAN Business Council also offers a dialogue on issues on potential bilateral FTA with the Philippines. US-ASEAN Alex Feldman – conveyed to call on Lopez during its planned 2020 Philippine Business mission in September this year via video conference.
---