'Plan B' needed for EU-US trade pact - Italian minister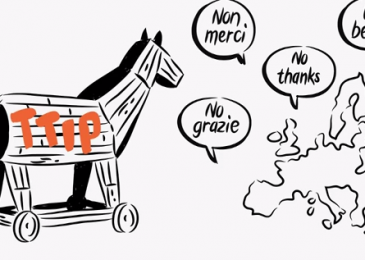 Reuters | October 9, 2014
'Plan B' needed for EU-US trade pact - Italian minister
ROME (Reuters) — Italy said on Wednesday there needed to be a "plan B" that foresees a partial EU-US trade deal in order to sidestep deadlock over specific issues.
The United States and the European Union are seeking to seal a free trade deal encompassing half the world's economic output, which could bring economic gains of around $100 billion (62.25 billion ppunds) a year for both sides.
The two sides appear close on a number of issues, such as lowering tariffs on cars and car parts and greater harmonisation of regulation in the auto sector.
But there are many sticking points, notably different standards and regulations that encompass food and agriculture as well as energy and the potential opening up of public tenders.
"We should try to reach an overall agreement. But if we cannot reach one by the middle of next year, then let's have a plan B," Carlo Calenda, Italy's deputy industry minister, told foreign media in Rome.
"We can come to an interim agreement," he said, which would be a trade pact that excludes issues over which no compromise can be reached.
Italy currently holds the presidency of the European Union.
Calenda will preside over an informal meeting of EU trade ministers to discuss the talks, which Calenda said were proceeding "badly and very slowly", in Rome next week.
Particularly stiff resistance is being put up by Germany to the trade pact's Investor-State Dispute Settlement Clause (ISDS) that allows companies to take cross-border legal action against governments.
Critics say it gives multinationals too much power and could undermine laws on labour, the environment or food standards.
"Today it is not possible to reach an agreement that includes ISDS because the Germans will never allow it," Calenda said.
However, EU Trade Commissioner Karel De Gucht, speaking in Brussels on Wednesday, said he was not convinced the phased approach to trade talks that Calenda is proposing would work.
"It's really a single undertaking," he said of the would-be trade deal.
(Reporting by Steve Scherer; additional reporting by Philip Blenkinsop in Brussels; Editing by Janet Lawrence)
---