Police counter anti-FTA protests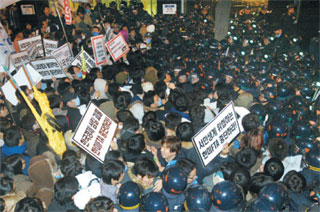 Korea Herald | 2006.12.07
Police counter anti-FTA protests
From news reports
The government mobilized 45,000 riot police yesterday to thwart banned protests as crucial talks on forging a free trade agreement with the United States faltered.
Thousands of protesters went ahead with anti-FTA rallies and marches in Seoul and other cities across the country.
Some burned an effigy of a cow in anger at Washington's efforts to force Korea to lift its ban on the import of U.S. beef. But no major violence was reported.
Police said officers set up more than a 1,000 checkpoints leading to highways, bus terminals and railway stations after the government vowed zero tolerance for violent rallies.
"We deployed about 45,000 riot police nationwide to enforce a ban on street protests," Kim Ki-woong, a National Police Agency official, said.
Police stopped many farmers and workers from leaving their home towns and work sites.
Protesters and riot police clash in central Seoul yesterday during a rally against a free trade agreement with the United States. The Korea Herald
But 20,000 people managed to take part in street demonstrations in Seoul and nine other places according to the Korean Alliance Against the Korea-U.S. FTA, a coalition of civic groups. Police estimated the number at 13,000.
Some 5,000 activists rallied at a park near the center of Seoul, waving red flags with slogans reading "No to Korea-U.S. FTA!"
Activists burned the effigy of a U.S, "mad cow" in a show of their opposition to the FTA talks. Some 1,000 protesters marched in downtown Seoul causing rush-hour traffic congestion after the rally.
The proposed FTA with the United States is unpopular with farmers who say it will kill off their traditional lifestyle, as well as with other workers who fear for their jobs.
After anti-FTA protests by farmers and supporters turned violent last week, police banned yesterday's rallies.
"We only need to give the government advance notice for a rally. We do not need approval from the police," said a statement issued by the organizers, named the Korean Alliance against the Korea-U.S. FTA.
Peaceful public protests are guaranteed in South Korea but police said they could not allow the same farmers' group to hold another rally which could turn violent.
The dispute was exacerbated by an open call Tuesday by a state human rights commission, urging the police to sanction Wednesday's rally. Police decided to stick to their decision.
The number of participants in the rally was expected to be far smaller than the 50,000 the organizers planned to gather, because police were blocking many farmers from traveling to Seoul from provincial areas.
In last week's protests in several major cities, 63 people, including 35 police, were injured. Angry protesters attacked provincial government offices in Daejeon and Gwangju and torched some buildings, causing 670 million won ($720,250) in property damage, police said.
Police arrested two farm leaders in connection with last week's protests and obtained court-issued arrest warrants for 48 others.
The United States and South Korea are holding a fifth round of talks this week in the U.S. mountain resort city of Big Sky.
But there was no clear sign of headway in the negotiations as the mood was subdued by South Korea's latest ban on U.S. beef imports.
South Korea rejected a second U.S. beef shipment last week after the discovery of a small piece of bone in the consignment, violating a January pact allowing imports of U.S. beef to resume after steps were agreed on measures to prevent mad cow disease.
The negotiations on what would be the biggest U.S. trade deal since the North American Free Trade Agreement must end well before President George W. Bush's authority to push through such legislation expires on June 30.
---