Premier Li urges China-Japan-South Korea FTA talks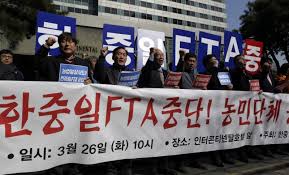 CGTN - 15 March 2019
Premier Li urges China-Japan-South Korea FTA talks
Chinese Premier Li Keqiang urged Japan and South Korea to speed up free-trade agreement (FTA) talks as the three parties mark the 20th anniversary of the launch of the China-Japan-South Korea cooperation mechanism this year.
Li said the trilateral FTA talks should be put on the agenda in the three countries' leaders' meeting this year, especially under the current global circumstances of the rising tide of anti-globalization and protectionism.
Li made the comments at a press conference Friday after the National People's Congress (NPC), China's top legislature, concluded its annual session.
A comprehensive, high-standard and mutually beneficial FTA will bring benefits to people in all three countries, the Chinese premier said.
Japan runs a large surplus to China in trade, but China still prepares for the competition and is willing to open its market, he added.
When answering a question regarding whether the talks of the trilateral FTA and the Regional Comprehensive Economic Partnership are competing, Li said any progress of the two trade talks depends on the commitment of the parties concerned, and that China welcomes and maintains a positive attitude to the achievements in both talks.
He stressed that China not only pays great attention to its ties with Northeast Asian countries but also pays attention to its relations with Southeast Asian countries and all neighboring countries.
At the end of the press conference, Li said he would like to reiterate that China will firmly stay on the path to peaceful development and be committed to making a contribution to regional and world peace, stability and development.
---