RCEP: Round twelve and beyond. call for coordinated action in Asia Pacific by Forum against FTAs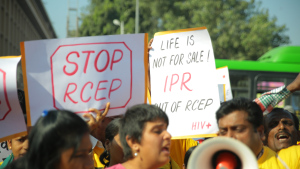 The next round of negotiations of the Regional Comprehensive Economic Partnership (RCEP) amongst 16 Asian countries, will be held as a five-day meeting at Perth, Australia starting from April 22, 2016. The RCEP member countries through their trade officials will hold wide ranging deliberations on several issues as part of this proposed 'mega regional' trade deal.
You may already have planned actions of media work and other popular campaigns in your locations. But we thought it would be useful to connect civil society in all the sixteen RCEP countries, namely: ASEAN (Brunei, Cambodia, Indonesia, Malaysia, Myanmar, Singapore, Thailand, the Philippines, Laos and Vietnam) and its six free trade agreement partners — India, China, Japan, Korea, Australia and New Zealand.
So if you/your organisation is considering mobilisation on this issue, not only around this round, but also through the year, please do make that known. May we also suggest that we all:
1. Identify point persons in each of the RCEP countries & establish linkages
2. Add relevant groups & individuals on the existing RCEP list serve
3. Get the names and contact details of the negotiators from your country
4. Share the activities you might have planned for synchronised actions
5. Consider an all RCEP-country civil society meeting in mid-June, possibly in Kuala Lumpur, Malaysia
Also, as a gesture in solidarity from our side, in any activity that we do we will be reiterating the point that this FTA will not only be a potential problem for lives & livelihoods in India but also for the region. We also extend an open invitation to fellow campaigners against RCEP from any of the other 15 RCEP countries.
While we understand that collective action may not always be possible across the miles, yet we do hope to keep the co-operation and communication going on amongst the above-mentioned sixteen countries.
In solidarity,
Forum Against FTAs - New Delhi, India
Contacts:
Shalini Bhutani, emailsbhutani@gmail.com
Ranja Sengupta, ranja.sengupta1@gmail.com
---