Reformist Japan farmers urge free trade to spur change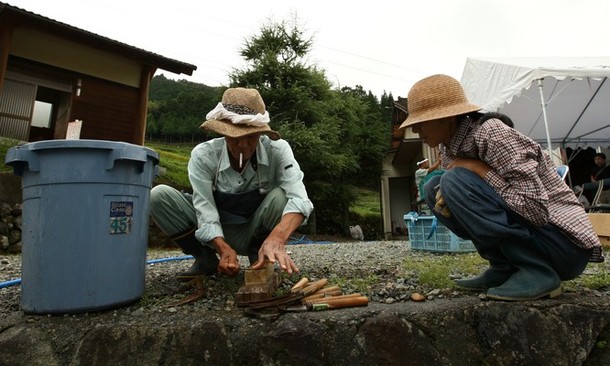 Reuters | Thu Oct 27, 2011
FEATURE-Reformist Japan farmers urge free trade to spur change
By Linda Sieg
MIKAWA, Japan Oct 27 (Reuters) — Like other farmers on this fertile, coastal plain in northeast Japan, where patchwork rice fields stretch to the mountains beyond, Kazushi Saito knows firsthand that the nation's shrinking agricultural sector is in dire straits.
But unlike many, the 54-year-old rice farmer backs a controversial free trade deal that could remove a near 800 percent tariff on rice, aimed at excluding most imports of a staple that is ingrained in Japan's culture.
"Japan's agriculture is on the verge of collapse. If things go on this way, it can't last five years," Saito said.
Saito says the U.S.-led free trade deal, the Trans-Pacific Partnership (TPP), was "the last chance" to keep Japanese firms from falling further behind globally, spur agriculture reform — and help his farming business turn a profit.
Prime Minister Yoshihiko Noda has signalled he's keen to join talks on the trade deal, which has Japan's powerful farm lobby in a tizzy. The initiative would in principle remove all tariffs among participants, including on farm products, and set rules on trade in a wide range of other sectors.
Here in the town of Mikawa like elsewhere in Yamagata prefecture , pro-free trade farmers like Saito are a minority.
Most rice farmers fear — and rightfully so — that removing the 778 percent tariff shielding them from cheaper imports would be the death knell for their mostly miniscule farms.
Tariffs on fruit and vegetables are far lower so the impact of trade liberalisation would be much smaller.
"Japan is the land of 'Mizuho'," said farmer Shigeru Sato, using an ancient name for the country that means 'golden ears of rice'. "Rice is our culture. Without policies to protect rice, we cannot preserve local society."
But the 64-year-old Sato, who has been growing rice in the village of Nowara all his adult life and opposes the free trade pact , agrees something must change to keep farming alive, given falling prices as Japanese eat less rice, the high costs of fertiliser and other inputs and a maze of regulations.
"In my son's generation, there is no one in my village who is farming," he said.
With farmers like Saito outnumbered by those who fear opening up Japan's farm market, Noda must face down opposition inside his Democratic Party of Japan if he is to tell U.S. President Barack Obama that Tokyo wants to join the talks when they meet at a Nov. 12-13 Asia-Pacific summit in Hawaii.
His decision will be taken by many as a gauge of whether the country's sixth premier in five years can deliver reforms needed to end decades of stagnation. "TPP will be a real litmus test of Noda's ability to make tough decisions," said Kenichi Kawasaki, a senior political analyst at Nomura Securities.
ANATHEMA
Free trade is anathema to many Japanese farmers, who after decades of decline make up just 4 percent of the workforce and contribute only 1 percent of GDP but pack political clout through a powerful lobby and an electoral system biased toward rural voters.
On the other hand, Japanese manufacturers, chilled by signs rivals like South Korea are pulling ahead, are pushing hard for Tokyo to join the trade talks, which include the United States, Australia, Brunei, Chile, Malaysia, New Zealand, Peru, Singapore and Vietnam.
Seoul does not belong to the TPP but has forged free trade deals with the European Union and the United States, sending shivers down corporate Japan's spine.
Even without the pressure of freer trade, Japan's farming sector is in serious decline as its population ages and shrinks.
The average age of Japanese farmers was 66 last year; 93 percent of rice farm households work the land part-time or supplement their income with pensions. Youth are leaving Yamagata and other rural areas in search of jobs.
In a nod to the need for reform, the government last week outlined steps aimed at promoting larger, more competitive farms that would attract younger workers and drive down costs.
But farmer Saito, like most experts, says that the Democrats must alter a key policy that provides direct income subsidies to all farmers — regardless of the size of their farms — if they really want to encourage part-timers to lease or sell land to full-time professionals and help them turn a profit.
"Real reform would mean not providing income support to small-scale farms ... otherwise his (Noda's) policies are working against each other," said Aurelia George Mulgan, a professor of Japanese politics at Australia's University of New South Wales.
"The first is designed to achieve economic goals i.e. encouraging larger-scale farms and the second — universal farm household income support — is to achieve political goals."
Even with reforms, rice farmers would need to compete with imports through branding, quality and marketing rather than price and will still need government support to stay afloat.
Changing the income support programme, which were devised to woo farm votes away from the long-dominant Liberal Democratic Party (LDP) and helped vault the Democrats to power in 2009, risks eroding voter support ahead of an election in 2013 or sooner.
Pro-free trade farmers, though, want national politicians to stop treating them like election pawns and adopt policies to revitalise rural regions, which can't survive on farming alone.
However painful for many farmers, Japan cannot afford to remain outside free trade pacts such as TPP, said Hitoshi Sato, a local assemblyman in Mikawa who farms a 10-hectare (25-acre) plot.
"Without trade, there is no Japanese economy ... This is an era when all industries, even in this rural region, must operate in the context of the global economy." (Editing by Tomasz Janowski and Raju Gopalakrishnan)
---