Revising China FTA may not make big difference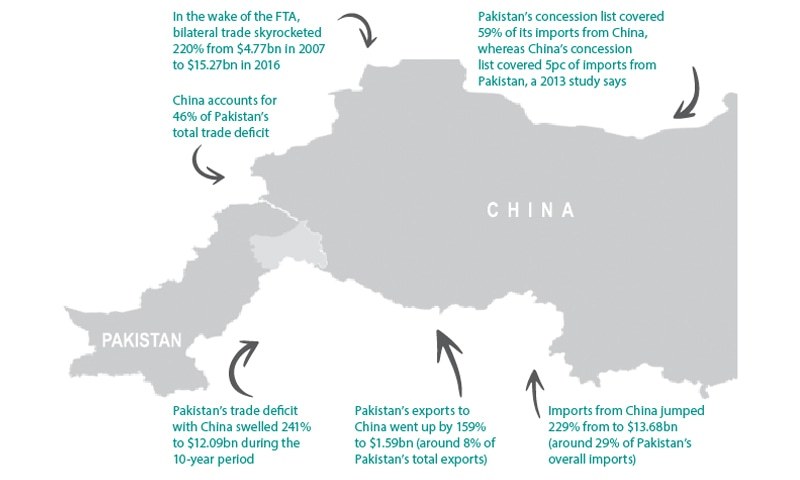 The Dawn | 19 February 2018
Revising China FTA may not make big difference
by Hussain H. Zaidi
Pakistan and China have agreed to amend the bilateral free trade agreement (FTA) with a view to providing Pakistani exports with better access to the Chinese market.
The FTA has, to a great extent, been responsible for Pakistan's growing trade deficit with China. According to the United Nations-run database Comtrade, China accounts for 46 per cent of Pakistan's total trade deficit.
The agreement was signed in 2006 and became operational a year later. In the wake of the FTA, bilateral trade skyrocketed by 220 per cent from $4.77 billion in 2007 to $15.27bn in 2016 (the last year for which full-year data is available).
However, China disproportionately benefitted from this rise. From 2007 to 2016, Pakistan's exports to its neighbour went up 159pc to $1.59bn while the imports from China ratcheted up by 229pc to $13.68bn.
Thus, Pakistan's trade deficit with China, which was $3.54bn in 2007, went up by 241pc to $12.09bn in 2016. At present, whereas China accounts for 7.74pc of Pakistan's global exports, its share in the country's global imports is 29.11pc.
Under trade concessions offered by the two countries, the FTA tariff reduction modality provided for tariff reduction or elimination on the agreed number of products from 2007 to 2012. China has been the major beneficiary in this case, too.
According to a 2013 study by the Pakistan Business Council, Pakistan's concession list covered 59pc of its imports from China, whereas China's concession list covered only 5pc of imports from Pakistan.
Pakistan gave China concessions on 5,686 tariff lines (TLs), while it received concessions on 6,418 TLs. Of the 5,686 TLs on which Pakistan gave concessions, tariffs were eliminated on 2,423 TLs, while tariffs were cut on the remaining.
China is better placed than Pakistan on almost all key economic indicators
Likewise, of the 6,418 TLs on which China gave concessions, tariffs were eliminated on 2,681 TLs while tariffs were reduced on the remaining.
The no-concession list of Pakistan comprised 1,025 TLs, while that of China consisted of 1,132. The concessions offered by both trading partners are more or less equal. However, since, as a rule, it is the coverage of actually traded goods rather than the number of TLs that matters, the exchange of concessions has been loaded in favour of China.
This may be put down to a better negotiating capacity as well as greater negotiating leverage of China, which normally happens with negotiations with a much more powerful country.
Pakistan's top five imports from China have registered substantial growth over 2012-2016: electrical machinery and equipment (rose from $1.74bn to $3.33bn), other machinery and mechanical appliances ($0.868bn to $2.94bn), iron and steel ($0.357bn to $1.06bn), organic chemicals ($0.374bn to $0.635bn), and man-made filaments ($0.373bn to $0.556bn).
On the other hand, Pakistan's top five exports to China during the same period show a disappointing performance: cotton yarn (dropped from $1.42bn to $0.823bn), rice ($0.254bn to $0.220bn), ores, slag and ash ($0.120bn to $0.077bn), fish and other marine products ($0.041bn to $0.047bn), and marble ($0.039bn to $0.027bn).
Not only that, but Pakistan's top three global export products — home textiles ($3.80 global exports), knitted garments ($2.34bn) and woven garments ($2.25bn) — have a minimal presence in the Chinese market: $25.78 million for home textiles, $16m for knitted garments and $20m for woven garments.
Pakistan's export-interest products either face high tariffs in the Chinese market or have suffered preference erosion in the wake of China's FTA with countries in the Association of Southeast Asian Nations (Asean). The tariff for rice is 65pc, while average tariff for home textiles, knitted garments and woven garments is 4pc, 7pc and 9pc, respectively.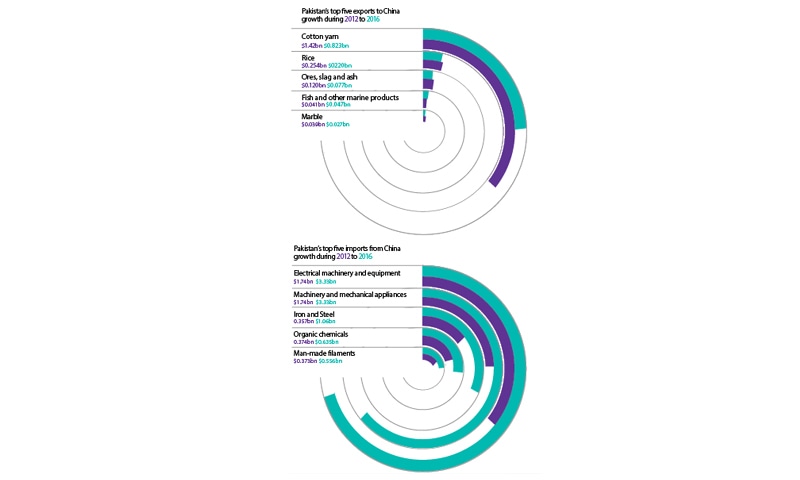 Asean countries face zero tariffs for home textiles, knitted garments, and woven garments under the FTA, while for rice the applied Chinese tariff is 35pc. This places Pakistan's star products in a relatively disadvantageous position in the Chinese market.
Pakistan wants China to accord its export interest-products the same level of preferential treatment enjoyed by imports from Asean.
However, some issues may vitiate Pakistan's position. One, in FTAs preferential treatment is given on the basis of reciprocity. If Pakistan wants greater market access for its exports, it will have to offer greater access to Chinese imports as well.
The fact that the two countries have excellent political relations should not lead us into believing that China will not demand an equivalent level of concessions. Is our domestic industry, already reeling from heavy imports from China, ready for an increased access to Chinese products?
Two, because of its enormous domestic market, China enjoys cost advantages few other countries do. For over more than two decades, China has maintained a healthy growth rate, the economy has diversified substantially, and the country's manufacturing sector has moved up the value chain.
On the other hand, Pakistan faces acute supply side constraints: it has a narrow manufacturing and export base and is largely an exporter of agriculture or agro-based manufactures.
Pakistan is ranked 147th on the World Bank's Ease of Doing Business Index, whereas China is at 78th. Likewise, on the Global Competitiveness Index, Pakistan and China are ranked 115th and 27th, respectively.
On almost all key economic indicators, China is better placed than Pakistan. It is thus doubtful whether a revised FTA will make a big difference to the bilateral trade equation.
---