S/African gov't approves African tripartite FTA pact, industrial action plan
Journal du Cameroun | 11 May 2018
S/African gov't approves African tripartite FTA pact, industrial action plan
The South African cabinet on Thursday approved the Tripartite Free Trade Area (TFTA) Agreement which will soon be tabled in Parliament for ratification, Communications Minister Nomvula Mokonyane has said.The TFTA seeks to establish an enlarged market involving 27 member countries from the Common Market for Eastern and Southern Africa, the East African Community and Southern African Development Community.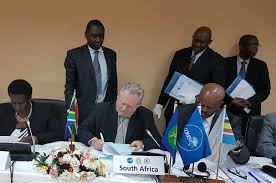 Mokonyane said on Thursday the TFTA is an important initiative in accelerating regional integration efforts to ensure that African countries traded with each other.
"This TFTA is a key Africa-led project that marks a decisive step to overcome the continent's colonial heritage of small fragmented markets by promoting intra-African investments and attracting more foreign investment into the free trade area," she said.
Addressing the media during a post-Cabinet briefing, the minister said as a result of regional integration efforts and stable economies, there has been strong growth in intra-African investments.
Once the agreement entered into force, it would reduce the tariffs on goods traded between the tripartite countries and create new opportunities for exports as well as regional value chains, she added.
Cabinet also approved the country's Industrial Policy Action Plan (IPAP) 2018/19 – 2020/21. This is the 10th iteration of a rolling annual action plan aligned to successive three-year cycles of the Medium Term Expenditure Framework.
Mokonyane said the revised IPAP summarised the achievements of the industrial policy over the past nine years.
"It provides an economic analysis of the global and domestic economy relevant to industrial policy, summarises the challenges and constraints to the optimal implementation of the industrial policy, as well as a range of transversal and sector-specific time-bound key action plans assigned to the respective departments," the minister said.
Furthermore, Cabinet approved South Africa's Third National Communication Report for submission to the UN Framework Convention on Climate Change (UNFCCC).
The primary objective of the UNFCCC is to achieve the stabilisation of greenhouse gas concentrations in the atmosphere to a level that would prevent dangerous anthropogenic activities from interfering with the climate system.
South Africa's report contains an analysis of its progress from the initial National Communication to the Second National Communication and subsequently the Third Communication Report, as reviewed by the international community and domestic stakeholders.
In health, Cabinet approved the submission of the Occupational Health and Safety Bill of 2018 to Parliament.
The bill amends the Occupational Health and Safety Act 1993 (Act 85 of 1993), with Mokonyane explaining that once adopted, the bill will ensure greater protection of workers in respect of injuries and diseases at the workplace.
"The bill establishes a clearly defined Health and Safety Management System and is in line with international best practice.
"It also provides for mandatory risk assessment to be conducted by the employer and a workplace-specific risk management plan developed and implemented to minimise the exposure of employees to risk," Mokonyane said.
---