S. Korea, Central America to begin FTA negotiations
All the versions of this article: [English] [français]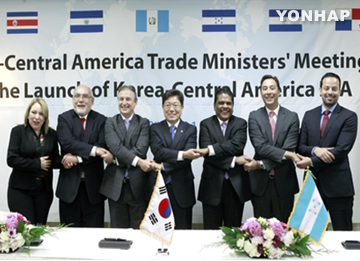 KBS, Seoul
S. Korea, Central America to Begin FTA Negotiations
21 September 2015
South Korea and six Central American countries will hold their first round of free trade agreement talks in Seoul for five days beginning Monday.
Director General for FTA Negotiations Cheong Seung-il from the Ministry of Trade, Industry and Energy will represent South Korea while El Salvador's Vice Minister of Economy Luz Estrella Rodriguez de Zuniga will lead the talks on behalf of the six Central American countries.
The two sides will discuss nine factors, including customs clearances and the country of origin for goods.
South Korea and the six countries, which comprise Costa Rica, El Salvador, Guatemala, Honduras, Nicaragua and Panama, agreed to establish a high-level and comprehensive FTA in June.
---