S Korea, US to hold further talks to resolve pending FTA issues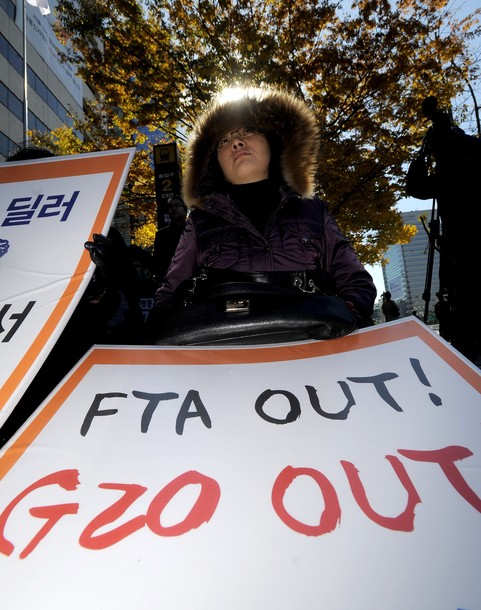 Yonhap | 2010/11/09
S. Korea, U.S. to hold further talks to resolve pending FTA issues
SEOUL, Nov. 9 (Yonhap) — Top trade officials from South Korea and the United States will hold further talks on Wednesday as the countries are struggling to resolve outstanding issues that have stalled the ratification of their free trade agreement (FTA) signed more than three years ago, a Seoul trade official said.
On Monday, South Korean Trade Minister Kim Jong-hoon and his U.S. counterpart Ron Kirk launched a two-day meeting to narrow differences on auto and other unresolved issues. Both sides have been striving to clinch a final compromise deal before their presidents meet on the sidelines of the Group of 20 summit here on Thursday.
"Both sides will hold further talks tomorrow," South Korean Deputy Minister for Trade Choi Seok-young said in a briefing, implying both sides are sparing over how to address pending issues.
"The situation is still fluid, and negotiations are still underway," he said.
Seoul and Washington signed the accord back in 2007, but the pact has been floating as the U.S. demands that South Korea further open its auto and beef markets.
The issues mostly concern complaints by the U.S. auto industry about South Korean tax and regulatory policies, which it blames for low American car sales in the local market.
In the case of auto trade, Kim said the U.S. raised concerns that South Korea's automobile safety and other standards act as a trade barrier to American-made automobiles. Washington is reportedly calling on South Korea to ease standards on fuel economy and gas emissions.
Regarding automotive fuel mileage, South Korea announced a plan last year for tougher efficiency standards than those of the U.S. for vehicles, requiring that all manufacturers produce cars that average at least 16.7 kilometers per liter of gasoline starting from 2015.
The U.S. last year endorsed a new efficiency standard that requires all new vehicles to get an average 35.5 miles per gallon, or 16.6 kilometers per liter, from 2016.
The U.S. also reportedly demanded scrapping or limiting so-called duty drawbacks, which allow refunds for tariffs levied on imported parts used by auto manufacturers.
Under an FTA between South Korea and the European Union (EU), there is a provision that caps refundable tariffs should there be "dramatic changes in sourcing patterns" within five years of the accord taking effect.
South Korean Trade Minister Kim said on Monday the two sides are not discussing beef trade, one of the key issues that blocks parliamentary ratification.
"It is our basic position that beef is not related to the free trade deal," Kim said.
South Korea imports beef only from cattle less than 30 months old due to fear of mad cow disease. The United States reported three cases of the disease between 2003 and 2006. In response, Seoul banned imports of U.S. beef in 2003 before resuming them in late 2008, which led to months of street rallies.
U.S. beef exports to South Korea reached US$216 million last year, making South Korea the fourth-largest importer of U.S. beef products, according to industry statistics.
Bilateral trade between South Korea and the U.S. totaled $66.7 billion in 2009, down sharply from $84.7 billion in 2008 as global commerce suffered during the economic downturn.
---