S Korean activists go on hunger strike to protest US FTA talks
Monday March 12, 2007
S. Korean Activists Go on Hunger Strike to Protest US Fta Talks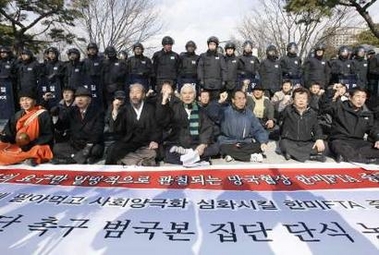 SEOUL, March 12 Asia Pulse — A group of 20 local activists said Monday they have started a hunger strike to oppose the South Korea-U.S. free trade talks underway here, adding about 1,000 more people will join them later this month.
Top negotiators from Seoul and Washington are engaged in the final day of talks aimed at concluding a free trade agreement (FTA) between the two governments. South Korean farmers and workers say such an accord would threaten their livelihoods because of cheaper agricultural goods and harsher working conditions such as lower wages.
The five-day talks, the eighth since last June, are believed to be the last round, as an end-of-March deadline approaches for the submission of a deal to the U.S. Congress for a straight yes-or-no vote without amendments under the Trade Promotion Authority, which expires July 1.
The 20 officials of the Korean Alliance Against the Korea-U.S. FTA said they are planning a massive hunger strike by about 1,000 protesters on March 26. They did not specify how long the hunger strike would last.
The two countries did US$74 billion in two-way trade in 2006. Some studies show that an FTA would increase their trade volume by 20 per cent, while opponents argue the deal would only deepen economic disparities.
The free trade deal, if agreed upon, is also subject to approval by South Korea's 299-seat National Assembly, where supporters outnumber opponents.
---