S Korean workers protest US trade deal
S.Korean Workers Protest U.S. Trade Deal
The Associated Press
Wednesday, November 22, 2006
SEOUL, South Korea — Tens of thousands of South Korean workers held rallies and labor strikes Wednesday to oppose a free trade agreement with the United States and demand better working conditions.
Chanting "Down, down FTA," thousands of protesters held a peaceful rally near the city hall in central Seoul, while hundreds clashed with police in the southwestern city of Gwangju. No injuries were reported.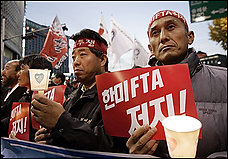 The protest comes less than two weeks before South Korean and American negotiators meet for their fifth round of free trade talks in the U.S. to hammer out an accord that would slash tariffs and other trade barriers.
Seoul and Washington started the negotiations in June and have made some headway, but they are unlikely to wrap up an agreement by the end of this year, as originally hoped.
A free-trade agreement would slash tariffs and other barriers on a wide range of goods and services from the two nations, which already do $72 billion worth of business a year. If successful, a pact would be the biggest for Washington since the North American Free-Trade Agreement of 1993.
The plan has drawn strong resistance from South Korean labor, agriculture and social groups, as well as the film industry. Farmers have been among the most vocal in protesting against any reduction in protections for agriculture, particularly rice.
Police said protests drew about 65,000 people across the country, including 9,000 in Seoul.
Woo Moon-sook, a spokeswoman for the Korean Confederation of Trade Unions, said some 80,000 workers participated in major cities across the country, including about 20,000 near the city hall in central Seoul.
About 7,700 police were deployed near the city hall in Seoul.
The South Korean government has vowed stern measures, calling the strike a "political strike."
Thousands of unionized South Korean teachers held a separate rally near the city hall in Seoul in protest of a government plan to introduce a new evaluation system for teachers. They joined a main rally later Wednesday.
Some 45,000 unionized members of Hyundai Motor and its affiliate Kia Motors also staged a four-hour walkout to voice their opposition to the free trade agreement with the U.S., according to labor unions for Hyundai Motor and Kia Motors.
The Labor Ministry said most of 58,000 striking workers went on a partial walkout.
---