Singapore, Australia to redouble efforts to conclude RCEP 'most desirably' within this year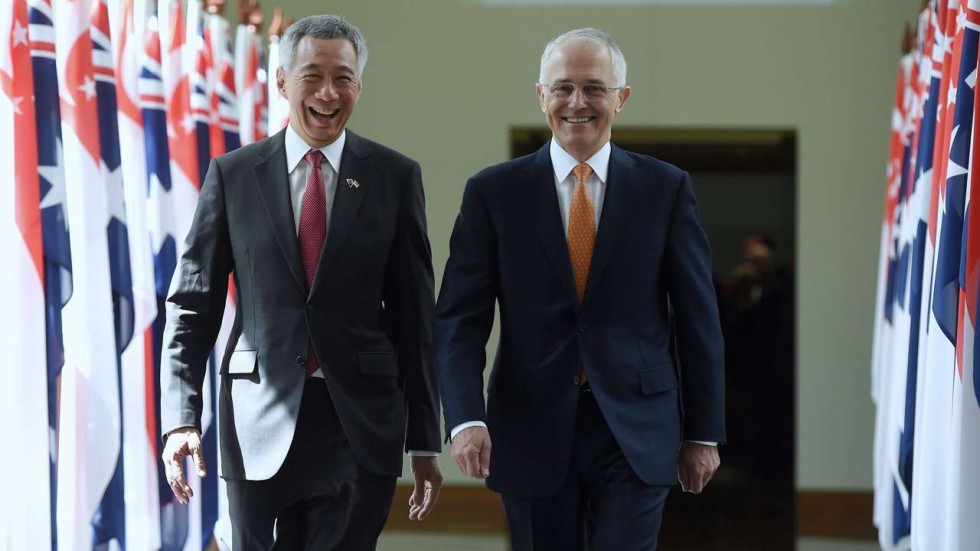 Today Online | 16 March 2018
Singapore, Australia to redouble efforts to conclude RCEP 'most desirably' within this year
by Kenneth Cheng
Sydney: Just a week after signing the Comprehensive and Progressive Agreement for Trans-Pacific Partnership (CPTPP) with nine other countries, Singapore and Australia vowed to "redouble" efforts to conclude an ambitious free-trade agreement among 16 Asia-Pacific countries this year.
In a press conference after a bilateral meeting with his Australian counterpart Malcolm Turnbull on Friday (March 16), Prime Minister Lee Hsien Loong said the next step after the CPTPP was to reach an agreement on the Regional Comprehensive Economic Partnership (RCEP). "We discussed this and the importance of doing this soon, most desirably within this year," Mr Lee said.
Mr Turnbull added: "We're cooperating closely on regional challenges, economic integration, and in particular, the importance of redoubling our efforts on the RCEP. We had very good discussions about that."
The RCEP is being negotiated among the 10 member states of the Association of South-east Asian Nations (Asean) and their six regional trading partners — Australia, China, South Korea, Japan, New Zealand and India.
Last November, Mr Lee vowed Singapore's full commitment, as Asean chair this year, to "maximum efforts" to move the RCEP negotiations forward, and "bring five years of our efforts to fruition expeditiously".
In January, during a visit to New Delhi to attend an Asean-India commemorative summit, Mr Lee said both India and Asean displayed a desire during talks to conclude negotiations for the agreement by this year. All the Asean leaders "spoke forcefully" on the need for the RCEP to be agreed by year's end, the Prime Minister said then.
Negotiations for the RCEP began in late 2012, but have taken longer than expected, missing three deadlines for a conclusion.
Part of the issue was that some of Asean's dialogue partners, such as India and China, do not have free-trade agreements with each other.
Mr Lee said previously that the challenges of negotiating the free-trade agreement were complex, and there was a need to balance the sensitivities and political constraints of various countries. The parties involved would have to recalibrate their ambitions to "realistic levels" and engage one another openly, he had said.
The member-states of Asean are Brunei, Cambodia, Indonesia, Laos, Malaysia, Myanmar, the Philippines, Singapore, Thailand and Vietnam.
Last week, 11 countries, including Japan, Australia and Singapore, signed the CPTPP, which replaced the Trans-Pacific Partnership (TPP) trade pact after Washington's withdrawal from the negotiations. Japan took the lead in forging the revised trade deal.
Mr Turnbull thanked Mr Lee for his contributions towards reaching the agreement. "Together with the other members of the (CPTPP), you showed great determination to keep that very important free-trade agreement on the road ... and completed after the US withdrew after the change in administration," said Mr Turnbull.
Stressing that the path of free trade was always challenging, particularly when the "winds of protectionism" were stronger, the Australian leader said that countries "have to keep at it".
"We are relentless in doing everything we can to open up more markets and more opportunities for Australian businesses and Australian exporters," Mr Turnbull said. "We absolutely believe that free trade is the key. Protectionism is not a ladder to get you out of a low-growth trap, it is a shovel to dig it a lot deeper."
---