SKorean activists rally against free trade talks
Agence France Presse | Sun Mar 25, 2007
SKorean activists rally against free trade talks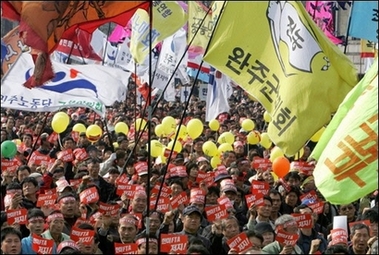 SEOUL (AFP) — Thousands of South Korean farmers and anti-globalisation activists marched here Sunday in a rally against free trade talks with the United States.
Wearing red headbands, the protesters urged the government to scrap negotiations on a free trade agreement (FTA) and put the issue to a public referendum.
"Stop the South Korea-US FTA, which threatens the livelihood of our people," they said in a statement.
Organisers said about 10,000 people participated in the rally on a park outside the Seoul city hall. Police put the number at 7,500.
About 15,000 riot police armed with water cannon maintained tight security around an intersection leading to the US embassy as the protesters started a march.
South Korea and the United States will meet in Seoul Monday to seek a final deal after 10 months of tough negotiations.
The deal, if agreed, would be the biggest since the 1993 North American Free Trade Agreement. US-South Korean bilateral trade reached 74 billion dollars in 2006.
---