South Korea-China free trade agreement attracts protest from activists as lawmakers ratify deal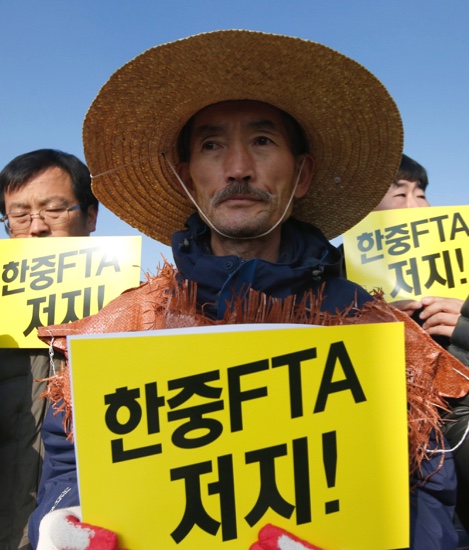 Chinatopix | 1 December 2015
South Korea-China Free Trade Agreement attracts protest from activists as lawmakers ratify deal
By Victoria Stanley
South Korean farmers and activists on Monday staged protests against a Free Trade Agreement (FTA) with China ahead of a parliamentary meeting to vote on its confirmation.
According to Reuters, the demonstrations started after both the government and opposition reached a tentative agreement to pass the free trade deal with China through parliament. The deal would open the way for the widening of relations with the countrys' biggest trading partner.
After opposition lawmakers secured a $1.4 billion relief package for farmers, the South Korea's parliament approved a free trade pact with China on Monday.
The trade pact was signed five months ago and its ratification paves way for the deal to take effect this year with South Korea's largest export market. Already, South Korea has trade deals with United States and the European Union.
The deal was passed by lawmakers after they agreed to spend 1.6 trillion Won over the next decade on aid for farmers, fishermen and tax breaks. The main opposition party opposed ratifying the deal, which is expected to affect agriculture and fisheries. These industries fear greater competition from less expensive Chinese imports, Voice of America reported.
Lawmakers further agreed to seek donations to establish a 1 trillion Won fund for fishing and agriculture industries over the next decade.
Upon implementation, the deal would remove tariffs on $73 billion in South Korean exports to China and on $42 billion of South Korea's imports from China. Eventually, it will eliminate tariffs on more than 90% of goods. Autos and rice, however, remain protected.
The government supported the deal with the hopes that over the next 10 years, it would create about 54,000 jobs and bring other economic benefits such as boosting sales of fashion items and cosmetics goods made by SMEs in Korea to the Chinese market.
Asia's fourth-largest economy, South Korea, has been struggling to improve exports, which saw its biggest drop in six years after dropping by 16% in October from a year earlier.
During a meeting in Seoul early in November, South Korean President Park Geun-hye and her counterpart Li Keqiang agreed to work towards ratifying the deal by the end of the year.
In 2014, South Korea was China's fourth-largest trading partner after the U.S., Hong Kong and Japan.
---