South Korea parliament ratifies revised US trade deal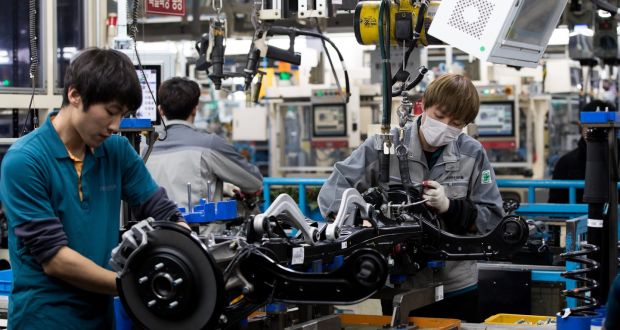 The Wall Street Journal - 7 December 2018
South Korea parliament ratifies revised US trade deal
Seoul agrees to double the cap on the number of vehicles each U.S. auto maker can sell annually in South Korea
By Kwanwoo Jun
The South Korean parliament Friday ratified a revised free-trade agreement with the U.S., the first such pact the Trump administration has successfully renegotiated. The approval meant that South Korean lawmakers backed down from their earlier demand that their country be exempt in the event President Trump follows though on his threat to impose global auto tariffs in the name of national security.
Lawmakers changed course, aides said, because they thought it was inappropriate to tie the agreement to the undecided future tariffs. The trade ministry in Seoul said it would prepare for the deal to be effective on Jan. 1, 2019, as wished by both sides, after consultations with the U.S. government. The deal doesn't need congressional ratification in the U.S. Mr. Trump, who had said the original 2012 trade pact was unfair to the U.S., has praised its revision as a "great" deal.
Under the revised terms, Seoul agreed to double the cap on the number of vehicles each U.S. auto maker can sell annually in South Korea from 25,000 to 50,000 for cars that meet U.S. safety rules, not Korean ones. The new deal also let the U.S. keep a 25% tariff on Korean pickup trucks until 2041—two decades longer than set by the original agreement.
South Koreans insist they deserve an exemption from Mr. Trump's planned global auto tariffs because they already made concessions on auto trade under the revised deal. They also say South Korean auto companies, which have invested more than $10 billion and created more than 110,000 jobs in the U.S., should never be subject to U.S. tariffs on national-security grounds.
The auto industry is a crucial part of South Korea's economy. The country shipped 845,000 vehicles, or one-third of its total car exports, to the U.S. last year, according to the Korea Automobile Manufacturers Association.
---