South Korea raises issue with US Trade Protectionism at FTA renegotiations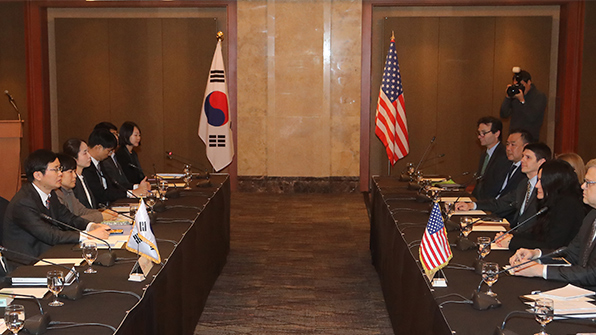 KBS World Radio News | 16 March 2018
South Korea raises issue with US Trade Protectionism at FTA renegotiations
by Oh Sooyoung
Tension was high as South Korean and US officials began their third round of talks on renegotiating their bilateral free trade agreement. Much of the Thursday meeting in Washington focused on the US' protectionist trade measures.
South Korea called the US out on its recent trade protectionism during bilateral talks in Washington on renegotiating their free trade agreement (FTA).
The two sides began the third round of FTA renegotiation talks on Thursday with the South Korean Trade Ministry's director general for FTA negotiations Yoo Myung-hee and US Assistant Trade Representative Michael Beeman leading the session.
During the seven-and-a-half hour meeting, Yoo is said to have asserted that the U.S. move to slap heavy tariffs on steel imports, on the heels of its safeguard measures on South Korean washing machines and solar panels, is unfair.
South Korean officials again pushed for the revision of the investor-state dispute settlement (ISDS) clause.
The clause allows foreign investors to sue governments for alleged practices through international arbitration bodies, which could be abused by multinational firms, challenging South Korea's judicial sovereignty.
US officials, on their part, pressed South Korea to ease non-tariff trade barriers in the auto sector.
The two sides will continue talks for a second day on Friday.
Meanwhile, in continued efforts to secure an exemption from the hefty import tariffs, South Korea's Minister for Trade Kim Hyun-chong met US Trade Representative Robert Lighthizer on the sidelines of the FTA talks in Washington.
The Trade Ministry says Kim explained that South Korean steelmakers have invested some five-point-seven billion dollars in the US, creating around 33-thousand American jobs.
---